INFORMAL ECONOMY
Cubans are extremely resourceful. They have to have been to survive both 40 years of US blockade and the virtual collapse of their economy when the USSR disappeared. Private economic activity, licensed and unlicensed, has grown significantly. In addition to regular jobs in the peso and dollar sectors, need, scarcity and restrictions on private economic activity have generated a significant informal sector in economic life. The term "black market" isn't used. The "informal sector" as an element in the economy is explicitly acknowledged.
Paying taxes is a new experience for Cubans in recent years. Some who leave jobs where they are paid with checks often prefer payment in cash so no paper trail is left. This way some hope to avoid paying taxes. Yes, this means there are now government inspectors whose job it is to try to catch people evading their taxes. Self-employed people must file an annual legal declaration regarding their income. As is the case everywhere else, there isn't a lot of enthusiasm about paying taxes, but Cuban authorities say compliance with tax laws is high. This sounds rather hopeful.
Informal video rental seems widespread. Legally it's done by state-owned businesses where typical rents are $1.00 USD per day. Through a system of informal video banks Cubans with VCRs are able to rent videos for 5 pesos (25 US cents) per night. Movies are obtained by people with satellite dishes. Bank owners could be fined or have their videos taken away if caught, but I heard no stories of that. I met one such entrepreneur who had hundreds of hand-labeled videos. His records were kept by hand in a notebook. His inventory was mostly Hollywood movies and no pornography. Unlicensed satellite dishes are a whole other issue. As in Iran, some people flout the law and there's quite an informal commerce in sales, installation and configuration of the illegal satellite dishes.
Copying and selling pirated CDs also seems to be a big business. I met one man, manager of a beautiful, modern, air-conditioned bookstore with a staff, who also runs a side business copying CDs and selling them for $5.00 each. I don't know what he pays for blank CDs, but if it's anything like in the US, where they cost $1.00, his profit margin is considerable. He told me a European friend had given him the CD burner. Since burners can cost up to $300.00, this must be quite a friend indeed! I met a second man who also made money this way.
One of the beds where I stayed, which was built of wood, had begun to fall apart due to termite infestation. A local carpenter, who had been a math teacher until retirement, hand-constructed an entirely new bed out of bits and pieces of discarded wood he'd literally found. It became the most comfortable bed in the house. It cost $20.00 USD for time and materials.
Other examples of informal economic activity abound: street performance artists like an old man dancing to whom I gave a dollar, itinerant skilled workers like knife-sharpeners, and the peanut vendor (above) who graciously allowed me to take her picture.
INTERNET ACCESS
Almost no Cubans have internet access at home. Cubans have had e-mail access and computer training for two decades through computer youth clubs and schools. They had to wait for a connection to the internet, which became available in October, 1996. This opened up the graphical world and instant delivery. They have had internet e-mail, both domestic (for more people) and international (for fewer people), for many years prior to 1996.
Only a few journalists, doctors and other scientists have e-mail at home. To check e-mail from elsewhere, foreigners have to use an internet café, such as the one at the Capitolio, where access is both slow and expensive at $5.00 an hour. You must present your passport, which is logged in at the desk, and Cubans can't access the internet there. Students have net access at the University, but I wasn't able to see under what conditions or limits.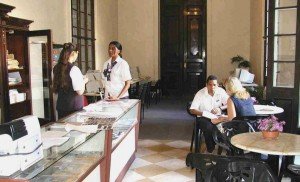 Some Cubans have internet access at work. They are mostly people who work for foreign companies. Many Cubans have e-mail at their jobs, though without internet access. These limits are explained by the expense of the equipment (starting with computers), limited bandwith and security considerations. The domestic Cuban intranet, however, has been built up over the last 20 years and is extensive. In a country where telephone service has been mostly unreliable, many businesses and universities use e-mail via the Cuban intranet to communicate.
A campaign that began in the Washington Post in December, 2000 claims that Cuba deliberately limits internet access to its citizens. It is hypocritical for the US, which does whatever it can to prevent Cuban access to technology, equipment and much else, to complain about this. Cuba is still a relatively poor Third World country. Its hard currency resources are kept for the highest priorities: health, education and self-preservation. Internet access is growing, but not as quickly as one would like. It's far less widely available than in the US, where income rather than need is what decides.
All governments fear uncontrolled information. In the US, we are drowned with massive amounts of information. By this means, important information (like favorable materials about Cuba!) can be drowned out where not eliminated totally.
Anyone seriously concerned about expanding access to the internet in Cuba should speak out to end the blockade. If Cuba didn't have to do so much to defend itself, and if Cuba were free to purchase computers and all the technology needed with it, internet access would be far more available there than it is at present. And Cubans might begin to purchase software that they currently cannot buy legally from US companies.
More importantly, when the internet is "opened" and made more available in Cuba, I can't imagine it would EVER be like it is in the US. There will NOT be 11 million people sitting alone at home at 11 million individual terminals. Remember, Cubans still share phone lines. That will continue, and so will sharing of internet resources. This is as much a cultural phenomenon as a resource-related one.
Cuba isn't interested in giving everybody individual internet access. The whole society is more communal and collective than that. It is much more likely that, with unlimited access and resources just handed to them, Cubans would work out a community-based kind of access. CDRs and schools and community centers and clinics will be used for internet access, not each individual home. One beginning effort they are making is to put public terminals at post offices.
Living in the US where internet access is relatively inexpensive, I have a high-speed DSL connection, and I don't pay attention to how long my computer stays connected. In Cuba, where access was $5.00 an hour for a slow connection at the Capitolio internet café, I had to carefully assess the value of what I was reading. Much and sometimes most of what I get in e-mail is junk, so I found myself deleting most of what I received in Cuba without reading it.
Cuba is willing to trade with anyone who will trade with it. I noticed that many of the computer monitors in the Capitolio, and elsewhere, were of Israeli manufacture. Cuba's vigorous support for the Palestinians doesn't keep it from having economic relations with Israel, which maintains a very low profile on the island.
TECHNOLOGY SHARING
Since Cuba can't legally purchase computer parts and software from the United States, Cubans have become highly adept at borrowing and sharing software.
Very few people or institutions in Cuba buy any software. They always have (and trade) the latest programs, but they're almost never licensed copies. According to my friend Kathleen Kelly, a computer professional at NY Transfer News in New York, some of her Cuban friends had a program called Memphis (later named Windows 95) long before most Americans had heard of it, and they'd obtained it from a private development area on Microsoft's computer system. They love beta-test software (it's the "newest"), and that has potentially serious implications for their computer networks' reliability, or lack thereof.
Cubans also had Windows 2000 up and running well before it was generally available in the United States. As this is about to be webposted, Microsoft has won a big lease on life, as it seems now it won't be broken up. Microsoft just announced the release of Windows XP, an enhanced version of Windows NT Workstation 5 and the next consumer upgrade after Windows 2000.
Windows XP won't be released until October, 2001 and is supposed to be "uncrackable." But Cubans with internet access are as able as anyone else to access the "warez" sites that offer cracked versions of protected commercial software. The beta version of Windows XP was already in use in Cuba, with its protection codes cracked, in June of 2001.
Cuban periodicals are set up and designed using all the latest software programs, such as Adobe Photoshop. At Prensa Latina's Publications Division, computer professionals lay out numerous magazines and newspapers using such software. They ask for help all the time. I had a digital camera for the trip. The staff of the weekly Negocios en Cuba ("Business in Cuba") heard about this and when they needed a cover photo quickly, they asked me to take the shot. Click here for the Negocios en Cuba website.