Colleague Albor Ruiz has died in Miami,
notes of dismay from his friends

By: Carlos Rafael Dieguez
January 9, 2021
Translated and edited by Walter Lippmann for CubaNews.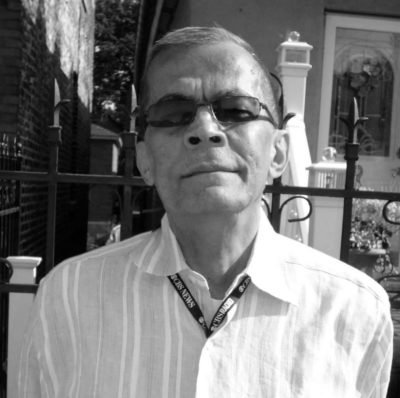 Enny Pichardo Paz al Alma of this great master,
Albor Ruiz It is with the greatest sadness – and on behalf of friends and family near and far – that we share that our dear friend
Albor Ruiz
died Friday night at 10:27 pm at Homestead Hospital in Florida. His was a life rich with many adventures and deep commitments. She had turned 80 years old in November. 27. Details will follow, but please keep it in your thoughts and prayers. Rest in power dear Albor.
Diego Tejedor Cano
You have just given me a lot of grief. In a short time I could see that he was an exceptional human being. I feel like a brother who is leaving.
Carlos Davila is with Albor Ruiz
My friend Albor Ruiz passed away last night. I first met him in 1968-1969 at the University of Florida, and with all the ups and downs of life, I have remained close friends ever since. He leaves a legacy of great memories to many friends, a long list of opinion pieces in various New York newspapers (including Daily News, where he was a staff writer), and a book of poems: ′ ′ "In Case I Die Tomorrow. The book itself is an appropriate epitaph, but these lines (freely translated by me from the last poem in the book) capture its essence: ′ ′. In case I die tomorrow, I want to write this on the wall of dreams: Know all that I never had a Master, neither in New York, San Juan, Miami, nor Havana." That independence and intransigence were both irritating and endearing. May his memory live on beyond our lives in the legacy he left us in his writings.
Romy Ar Sa
– I just read that the Cuban journalist Albor Ruiz has died and I have already finished sowing my heart into the ground this week. Albor was one of those people you admire even when you don't agree with the man halfway. A complete being with a humanism that can be perceived from a long distance. He will always have my genuine respect and admiration. To his family my deepest sympathy.
Grace Berti
Dear Albor Ruiz
I met you in New York, through my co-workers at "Marazul", the travel agency to Cuba, where you used to visit us and then we all went to have dinner at some bodegón with food from your homeland. All of us Cubans worked on the island, except one Uruguayan and I who remained on the periphery of meetings and conciliations, but very close in the friendship and enormous affection that we developed during those years. A journalist for the Daily News, always advocating for the rights of minorities, you arrived with a book as a gift when you knew I was returning to Argentina and which I still keep in my library: "The mountain is an immense green steppe".
We met again on Facebook and there I met your poetry. Did you know that you were leaving and that's why your last book is called "In case I die tomorrow" 
Goodbye, adventurous, brave, coherent, beautiful person!

THE SUN BURNS THE AFTERNOON
The Sun burns the afternoon
beyond my window
and in my memory Havana,
regal in its poverty, it burns.
I ask God to keep her
as if I believed in Him,
always to my memories faithful.
I am who I always was,
what I lived, lives in me
a little bile, a little honey.
A.R.
Ivette Cortes feels disconsolate. 
Albor Ruiz
My dear Friend! I just thought of you this morning upon awakening and although our paths haven't crossed in many years, I thank God for Facebook. For it has kept us in touch through these many years. So very sad to hear the news of your passing. You were a great force in life and you shared your wisdom and opinions freely and loudly. They were always welcomed to my ears and in my heart. I will miss your news columns and your inspirational, animated comments, especially about politics! I would love to hear your thoughts about what's going on right now. I am proud to call you my friend and I'm a better person for having known you. Rest In Peace my loving friend!
About this son of Cuba, from the City of Cardenas, Dr Julio Ruiz wrote on his Facebook wall
DEAR FRIENDS ALBOR PASSED AWAY AT 10:27 PM. MY DEEPEST CONDOLENCES TO HIS FAMILY. HE WILL BE REMEMBERED AND HIS ASHES RETURNED TO CUBA. EPD.
My friend and fellow wrestler Albor Ruiz has been admitted to an intensive care unit (ICU) since this morning. He had to be operated on five times for a fall with three fractures he had in the nursing home where he lived. He was suffering from a debilitating muscle disease called myositis, an inflammation that weakens muscles. He was trying to transfer from the toilet to a wheelchair, and as he told me, "………" He was already in rehab recovering although according to his sister Enid, the last two days were not going so well. Today he woke up with a lack of oxygen, with difficulty breathing, he had to be intubated and taken to the Homestead Hospital which was the closest hospital. The PCR was negative twice, but he has a pneumonia that covers both lungs. His prognosis is severe.
Albor is one of those exceptional and unique beings, of the very few I have known in my life, Vicente Dopico, his friend, was another. I met him in the 70's thanks to my friend Andrés Gómez. I got to know his parents when they lived in Miami Beach. He has a sense of humor like many of my generation, a mocker. I am not his oldest friend, but possibly the oldest of them.
My generation is a generation politicized by all our experiences of the 60's, and although we are grown up, which sometimes we don't realize, we haven't changed that much in sixty years, except for the aches and pains.
I am not religious, but neither am I an atheist, agnostic is the word, as a doctor I am clear about where we come from and where we are going, without fear.
For those who have met him virtually through these FB pages, I can attest that FB does not do him justice.
In his will he asks that if he should die, his ashes be buried in Cuba. In the past, other comrades in struggle are buried in the pantheon of the exiled revolutionary patriots at the entrance to the Colon Cemetery. José Marti's parents also lie there. We will try to fulfill their wishes
May God protect you.
Rafael Hernandez
Thank you, Julio. Death is a close presence, which accompanies us every day and can be expected in peace with oneself, especially when one has chosen a way to live and fight. It has always impressed me, in the midst of so much human misery, how you have remained true to yourselves, even in the moments when you did not have the understanding of this side. A tight hug for my Dawn on your journey.