LA IZQUIERDA DIARIO [Left Daily]
Trotsky's ideas discussed in Cuba
The "First Academic Event on Leon Trotsky", organized by the Cuban Institute of Philosophy, took place from May 6 to 8. It also has the support of the Museo Casa León Trotsky, from Mexico, the Centro de Estudios Investigación y Publicaciones León Trotsky (Argentina-Mexico) and other study centers.
By La Izquierda Diario México
@LaIzqDiarioMX
Translated and edited by Walter Lippmann for CubaNews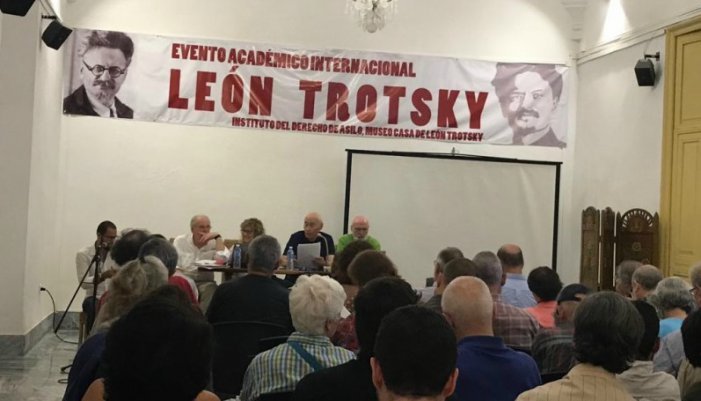 The meeting brought together a hundred participants from Cuba and different countries around the world.
Among the participants are intellectuals and researchers specialized in Trotsky's work, such as Suzi Weissman, Robert Brenner, Paul LeBlanc, Eric Toussaint, who exhibited at the first of the day's tables.

The day ended with the presentation of the book Trotsky en el espejo de la historia (Trotsky in the Mirror of History) by the Peruvian historian Gabriel García Higueras.
The importance of the event is evident, as it is an activity dedicated to reflect and discuss the legacy of Leon Trotsky, which was a true taboo on the island. Of note is the attendance of young Cuban students and researchers interested in learning about the ideas of the founder of the Red Army.
On Tuesday there will be the premiere of the documentary about Trotsky "The most dangerous man in the world", by director Lindy Laubman, with the historical advice of Suzi Weissman. This film has unpublished images.
An outstanding photographic exhibition on the Russian revolutionary, by the Trotsky House Museum, was also inaugurated at the event's venue.
During the next two days, the tables and book presentations will continue. On Wednesday, Pablo Oprinari will present Latin American Writings from CEIP León Trotsky.