Tribute to Father Sardiñas on the 55th Anniversary of his Passing
With the placing of a floral offering in the name of the Cuban people, and a pilgrimage to his tomb in the Colon Cemetary in Havana, Guillermo Isaías Sardiñas Menéndez, the priest known as the Father of the olive green cassock, was recalled yesterday on the 55th anniversary of his death
——————————————————————————–
Author: National Editor | internet@granma.cu
December 24, 2019 01:12:18
A CubaNews translation.
Edited by Walter Lippmann.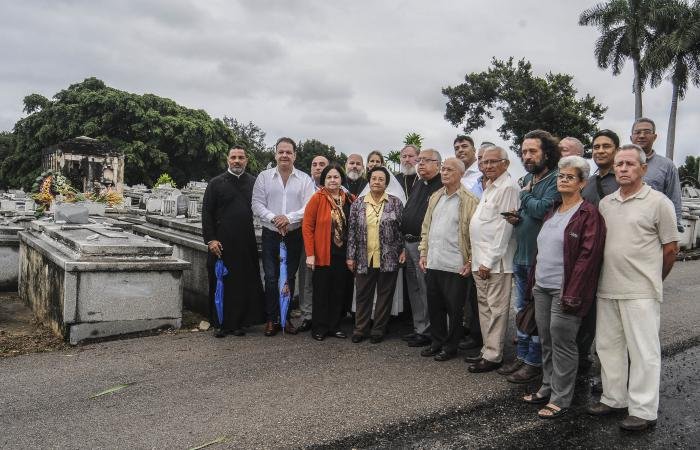 Photo: Dunia Álvarez
With the placing of a floral offering in the name of the People of Cuba and a pilgrimage to his tomb, in the Colon Necropolis, in Havana, the priest Guillermo Isaías Sardiñas Menéndez, known as the Father of the olive green cassock, was evoked yesterday on the 55th anniversary of his death.
Major General José Carrillo Gómez, president of the Association of Combatants of the Cuban Revolution (acrc), highlighted the personality of the former chaplain of the Rebel Army who came down from the Sierra Maestra with the rank of Commander, while Monsignor Ramón Suárez Polcari, chancellor of the Archbishopric of Havana, said a prayer in tribute to this distinguished personality. Also present were Caridad Diego, head of the Office of Attention to Religious Affairs of the Central Committee of the Party, Brigadier General Delsa Esther Puebla Viltre and members of the Association of Combatants of the Cuban Revolution (ACRC), as well as representatives and religious leaders of our country. (National Editor)