Today's youth… lost?
Author: Leticia Martínez Hernández 
May 22, 2009
A CubaNews translation.
Edited by Walter Lippmann.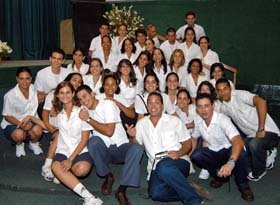 I admit it: it bothers me when my generation is called into question, not taken seriously and, worse yet, branded a lost cause, a very good reason to annoy the most even-tempered of souls, of which I am one. Is the word 'lost' by any chance synonymous with irreverent, revolutionary, nonconformist, impetuous, determined…? I don't think so.
A few days ago I took a bus, a bag hanging on my shoulder. Just by chance I found an empty seat beside a boy wearing the latest styles, tattoos and earphones included, who was also carrying something.
As chance would have it, we got off at the same stop, and I felt a great sense of relief when he insisted on helping me down the steps of the rear door with my load, his own notwithstanding. Like a harbinger of doom, the gloomy phrase suddenly came to me, as did memories of so many other boys and girls in their twenties who would leave more than one skeptic at a loss for words, and some who do give their nitpickers cause to complain.
Should we call lost those youths who stormed into the Isle of Youth, Pinar del Río, Holguín, Las Tunas and other Cuban provinces to share the pain of –and ease the burden on– the victims when the heavy rains and strong winds laid into Cuba last September? Or those who for the first time got their hands dirty trying one way or another to reap some benefit from the wounded land? I remember some of tem doing their best to make sad children laugh while their own family had no roof over their heads.
And the thousands of young Cubans who keep our education system going today, are they also the target of those fire-and-brimstone statements? Do the skeptic know anything about the nights those youths spend preparing their lessons while others their age are having great fun at a party; about how nervous they are on their first day in front of a class; about how they puff up with pride to be teachers even before their twentieth birthday; about the overwhelming burden that mistrust places on their shoulders?
Would the word 'lost' apply to those boys and girls who ache for their faraway loves as they stand day and night on our coastal reef to watch over every stretch of this country? If they only knew about Lester and his stubborn patrolling along some far-flung beach of Guantánamo province, or about Javier's great responsibility for a radar who does nothing but sweep the sea surface!
A colleague heard of the paper I work for and asked my age right away: "And at 25 you're already writing for Granma?" I had to summon up my patience for a long while –someone else said once that we were being ripened with carbide– before I told him of so many others like me he could find walking the halls of the official organ of the Communist Party of Cuba, where they spend countless hours waiting for closing time or hunting for the best thesis to finish a report while listening to [Cuban folk singer] Silvio, taking a few dance steps or exchanging jokes.
Have the doubters forgotten the exploits of those beard-wearing boys who cut their way through the bush in the Sierra Maestra Mountains and then raided our cities to disrupt the existing order inside Cuba and out? If a brilliant man like Fidel has always trusted in our youth's creative strength, why are there others who allow themselves the luxury of casting a shadow over them? We could fill endless pages with stories of young people who are underestimated on arguments as flimsy as their lack of experience. How different everything would be had the pioneers of this Revolution waited for the lazy, slippery experience…!
It's true that things are different now and it's no longer our role to be heroes in the crossfire, but the bullets now aimed at our heads are far more dangerous. Today's average youth must place limits on their aspirations, chances of personal fulfillment and even opportunities to have fun at the same time as they are showered with deceitful canons designed to convince them there's a better way of life outside our country. And despite the few who may fall for the swan song and others who allow despondency to get the better of them, millions remain who refuse to give in and still fight for their homeland's future.
What do they mean then by saying that youth, my youth, is hopeless? That we wear provocative and stylish clothes, live noisily, say what we think without a second thought, dream of possible and impossible things, dare to take on responsibilities we have no idea we can ever fulfill, never wait until tomorrow to pledge our commitment to the future… ? If these are the answers, then not only are we lost, we don't want to be found.