To Breastfeed is to Love
August 5, 2015
Translated and edited by Walter Lippmann for CubaNews.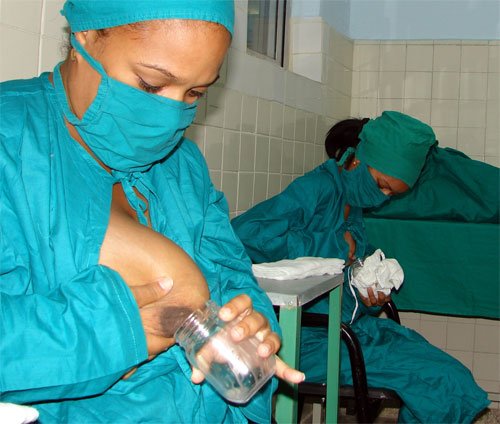 More than 600 liters of breast milk have been collected since the opening four years ago of the Mother's Milk Bank of the Doctor Agostinho Neto General Teaching Hospital, the only one of its kind in the province, which have been distributed among hundreds of Guantanamo's children, mainly those admitted for low birth weight.
"Since last April, the collection was put into practice in the communities of the provincial capital, thanks to which there are currently about 125 donors, and only in July 15 newborns benefited from this important food," said nurse Ada Lidia Leyva Crespo, head of this Bank.
Precisely because of the importance of exclusive feeding of newborns up to six months of age with this milk, the World Breastfeeding Week is being celebrated from August 1 to 7, which includes talks in the health areas, projection of audiovisual materials, dissemination campaigns, among other activities.
During the first six months of life, breast milk is the ideal food for children, since it provides all the nutritional substances necessary for healthy growth and protects them from infectious diseases, allergies, anemia and malnutrition; it also contributes to brain development, so it is not advisable to include other foods during this period.
Breastfeeding also helps to reduce bleeding after childbirth, to lose the fat acquired during pregnancy, prevents ovarian and breast cancer, and provides emotional satisfaction to the mother.