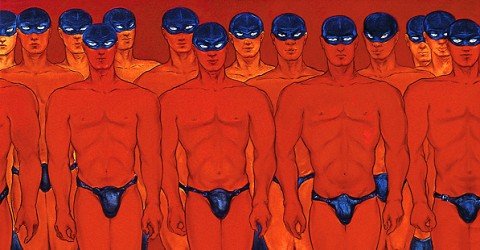 "Independent" LGBTI March or Another Wound to Heal
Translated and edited by Walter Lippmann for CubaNews
It is very likely that these lines will not satisfy any of the parties involved in what happened this Saturday, May 11, in the so-called "independent" LGBTI march from Parque Central to the Havana Malecón, but I feel the obligation to comment on and broaden some of the considerations I have already made in social networks, whatever the risks involved.
As I have already said, I regret the events that occurred almost at the end of the walk through the Prado capital of about 200 people, who despite not having the proper authorization, the police authorities and the Ministry of Interior accompanied and guarded for several blocks of that extensive walk.
It was the EFE agency that reported that within that group there were those who apparently had the intention of provoking an incident, and did not obey the instructions of the police, to be able to create, in front of the cameras, the spectacle that had been proposed. This teaches us once again that LGBTI people must be very clear so that they do not manipulate us or use us for political ends against not only the Revolution, but also our own rights and conquests.
Everything indicates that the bet of some well-known figures of the so-called dissidence, who never worried or occupied themselves with constructive proposals or messages for our rights as LGBTI people, was to dilute the atmosphere even more during this twelfth edition of the Cuban Days against Homophobia and Transphobia, and it is evident that in part they achieved it.
In contrast, however, like the crowded Diversity Party with several hundred attendees, where most of the LGBTI community and its most systematic activists – including participants in the illegal march – were present until almost midnight, it did not merit the same media attention.
But my doubts about this demonstration began long before, and I shared them with several people who were aware of its details, without receiving a convincing answer.
Why call it for Parque Central, in Old Havana, and not in some of the Vedado scenarios where, for eleven years, the Conga against Homophobia and Transphobia has been taking place, and whose cancellation this year was the alleged cause of the call to hold it? What groups are those who have habitually used this area of Parque Central and the Capitolio, to attempt some pale anti-government protest?
The call for the march set a place and time to begin, but it was never clearly stated what the route would be or where the possible participants would go. Wasn't that definition or was the intention not to go anywhere, but to reach a certain state of massive tension?
If the purpose was to show discontent to the authorities, why didn't they go to shout "We want the conga", for example, at the Gala on Friday the 10th at the Karl Marx Theater, where none other than the Secretary of the Council of State, the Ministers of Public Health and Justice, the President of the People's Supreme Court and the Attorney General of the Republic, among other leaders of the country, were present?
Many criticisms have been generated by the statement of the director of the National Center for Sex Education that behind the organization of this march there were groups of people residing in Miami.
I personally do not know what the origin of this idea was, but I can testify to the ardent enthusiasm and the broad promotion they carried out on social networks, including my Facebook wall, subjects who no longer live in Cuba and systematically devote abundant time and efforts -almost incredible for those who, I suppose, have other daily occupations much more absorbent and unpostponable that capitalism imposes on them-, only to criticize any action or reaction of Cenesex, its specialists and activist networks.
I can also attest -because I greeted them with sincere affection and even took pictures with them- to more than one person known and trained as an activist in the community networks linked to Cenesex who live in the United States and traveled expressly to Havana to be in the Jornadas, and very particularly in this march that did not have official permission.
I am aware of the bad taste that lets us talk about all this. Believe me, it hurts me to do it. Among other reasons, because almost certainly it is very probable that I too am committing some injustice with my perhaps subjective and partial appreciations, even if they are based on the real and objective elements that were within my reach.
In fact, a colleague and friend whose judgment I greatly appreciate and who, for years, has been a participant in my activist and blogging efforts on these issues, has alerted me with sincere concern about the risks to my "credibility as a communicator and activist", by this taking such an unusual position in me, that I always prefer balance and benevolence when assessing human behavior.
But I refuse to make any kind of personal calculation in the face of such a painful situation, where those of us who are the main victims now want to pass ourselves off as perpetrators. Whatever it is, it will be; even if it implies any individual setback that has little or no relevance.
The least important thing now is to tell the truth, so that in the midst of all this bullshit hope is reborn in a cause that, sooner or later, it will be their turn to continue cultivating and carrying on with other people who will surely do it better than those of us who did it up to this point.
To those who, in good faith, and with legitimate discontent, participated in the walk, I thank you with all my heart. They did what they thought should be done for a just cause, as I have done many other times, not without making mistakes and suffering the consequences. I would never question the intentions of that possible majority of those present, which I am convinced did not premeditate nor could they suppose the provocation in which it finally ended up being involved.
And I say more. Were it not for my close and unconditional commitment to the Organizing Committee of these Days – which brings together so many valuable people who have put all their passion and mind into this collective work, including unspeakable pain when we have not managed to do something like we believe our people want, expect and deserve – and the most information I could have on the evolution and possible consequences of this event, perhaps I would have been in that same fragile position, with my rainbow flag over the Prado.
The negative repercussion of these events demonstrated, however, that the march was not a success, as those who defend their anti-government agendas more than our rights as LGBTI people say, but a serious mistake that we could end up paying for with a very high cost of splits, extremisms, and setbacks in future processes of dialogue, if we are not able to critically analyze what happened and thus draw lessons to overcome it.
For my Party and the Government, I believe that the message has also been very clear.
I explained this in my previous text when I tried to explain how it was the Revolution itself that empowered us and made us aware of our rights in this more than a decade of educational strategy and political struggle against discrimination based on sexual orientation and gender identity. It facilitated the creation of spaces for our intimate and collective realization -such as that emblematic Conga that was suspended this year-, which we can no longer and do not want to renounce, even if it means defending them from any threat, with the intelligence and courage that we have always been capable of in Cuba throughout our entire history.
To all parties involved in what happened on the Paseo del Prado, even if they are not fully or partially satisfied with these harsh words I have written here, I reiterate that we have no choice but to try to exorcise ourselves from our own demons, restlessness, prejudices, and grudges, and start again to move forward, to heal this temporary wound and continue with the construction of that more just, progressive and inclusive society, to which the vast majority of our people aspire.
Who is Paquito?
I am Francisco Rodríguez Cruz, also known as Paquito, from Cuba; I am a Marti follower and an author; I am a communist and gay journalist; I am a convinced and superstitious atheist; I am the father of a son whom I have adored and have been a partner for fifteen years with a seronegative man who loves me; I have been an AIDS patient since 2003 and am a survivor of non-Hodgkin's lymphoma for more than twelve years; I am a university professor and a student of life; a follower of Cuban economic issues and a passionate devourer of universal literature; an incontinent and belligerent moderate; a friend of my friends and a compassionate friend of my enemies; often wrong and never repentant; a hardened and eternal enthusiastic optimist; alive and kicking; in short, another ordinary man who wants to share his story, opinions and desires with you…