Cuban President congratulates Daniel Ortega on his birthday
«I join my brother President Maduro to that congratulation for the birthday of Brother Daniel Ortega.

 

Congratulations, "he wrote on his Twitter account , shortly after the Venezuelan leader congratulated the president

By Juventud Rebelde
digital@juventudrebelde.cu
A CubaNews translation.
Edited by Walter Lippmann.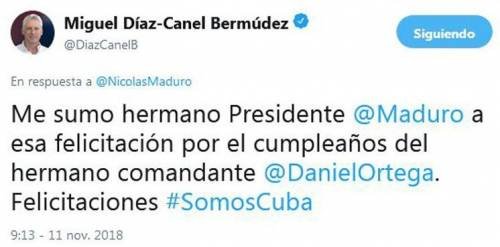 VIENTIANE, November 11.- Cuban President Miguel Díaz-Canel congratulated his Nicaraguan counterpart, Daniel Ortega, on his 73rd birthday this Sunday.
"I join my brother President Maduro in congratulating him on the birthday of his brother Commander Daniel Ortega. Congratulations," he wrote in his Twitter account, shortly after the Venezuelan leader congratulated the president.
Diaz-Canel is touring Europe and Asia and is in Laos this weekend, PL said.
A Memorandum of Understanding on cooperation between the Bank of the Lao People's Democratic Republic and the Central Bank of Cuba was signed on this day in the presence of President Miguel Díaz-Canel Bermúdez and his Laotian counterpart Bounnhang Vorachith.
In another tweet Díaz-Canel stated that "we celebrate in Laos the 50th anniversary of the National Liberation Forces Command. It was in the legendary caves of Viengxay, where our doctors consolidated the unbreakable friendship of our peoples.