BRAVE ONES: Revealing Faces, Beatriz Rodríguez
April 12, 2020
Translated and edited by Walter Lippmann for CubaNews.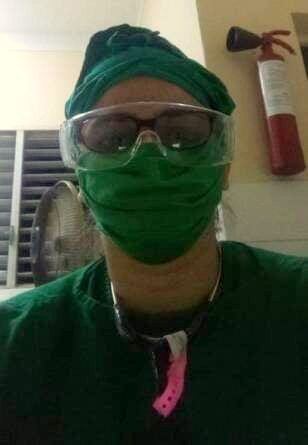 Beatriz Rodriguez Sandeliz is 30 years old. She is a First Grade Specialist in Pediatrics and head of the Respiratory Service of the Children's Hospital "José Luis Miranda", in Santa Clara, Villa Clara. Dr. Beatriz formed, in the beginning, together with Dr. Marbin Machado Díaz, also from the Children's Hospital and Drs. Lissy Pérez Leal and Richard Godoy León, from the "Manuel Fajardo" Military Hospital, the team of eight pediatricians who, at present, attend to infants who are contacts, suspects or infected with the SARS-CoV-2 coronavirus.
"If they knew how hard it is to see a 12-year-old girl crying because her PCR has tested positive, we wouldn't be so irresponsible and would stay home. It hurts to see a helpless child cry because we have not been consistent and have failed to protect those who are the hope of the world," says this young doctor with only six years of training, three of them as a pediatrician.
(Texts and photos by Yudith María Delgado Rodríguez and Félix Alexis Correa Álvarez)