Great Expectations, Failed Expectations
Biden-Harris and Cuba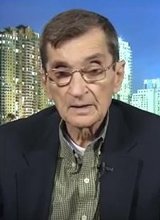 By Domingo Amuchastegui
March 31, 2021
Translated by Walter Lippmann for CubaNews.
For many Cubans, last November's election results in the United States were loaded with great expectations. The economic war imposed by Trump with its devastating effects was to come to an end and with the Biden-Harris binomial in the White House -it was apparently the most logical thing to think- the dynamics of normalization of relations between Cuba and the US initiated in 2014 would be resumed. Biden and his advisors had actively participated in that dynamic and the premises to resume the process interrupted by Trump. However, at this point, those great expectations do not appear on today's horizons or in more distant scenarios.
Almost 100 days into the inaugural 100 Days, the Biden-Harris binomial has not lifted a finger to partially or completely reverse the set of economic and political-diplomatic attackers launched by Trump against the Cuban authorities. They have not even taken a step to fulfill the three steps they promised to undertake immediately (reestablish diplomatic and consular presence, family reunification processes and the normal sending of remittances). It has been argued by some specialists that the Cuba issue is neither important nor a priority for the Democratic agenda. If this were so -given its insignificance- it could be resolved quickly and with the stroke of a pen. But, the issue is more complex and of greater relevance.
To the proposals of a hundred or so members of Congress advocating a restart of the normalization process and carrying it through to its ultimate consequences, he has so far not given them the slightest attention or consideration. They have been sent to the usual "freezer" or usual procedure to "kill" the legislative proposals that do not interest the system or the situation.
In addition, the Biden-Harris administration is now seeking to "revive" the case of the "Havana syndrome," a chapter that was cleared up a long time ago, even in Trump's own time. If he could not prove and legitimize before the world any guilt on the part of the Cuban authorities, what sense does this measure make now?
To this is strung together a curious congressional proposal promoted by well-known Senators Bob Menendez (NJ) and Marco Rubio (FL) with some bipartisan backing. It is a meticulously elaborated plan, in great detail, articulating an articulated body of pressures, restrictions and sanctions on the Nicaraguan government in order to force it to accept the convocation of an electoral process, to the liking and design of these senators.
And why against Nicaragua, the weakest link of the "troika" so characterized by John Bolton at the time? Nicaragua would be the "laboratory," from whose effectiveness would emerge its application to the cases of Venezuela and Cuba, the cases that most interest these influential senators. It remains to be seen whether or not the "freezer" resource will be applied. The proposal also assures the approval of their electoral bases and the approval of powerful Cuban-American political-economic interests.
Faced with such tendencies, it is legitimate to ask: Is the Cuba of today diametrically different and opposite to the one that Blinken, Mayorkas, Kerry and others of the current Biden team knew in detail, including the Cuban leaders? Except for the devastating effects of the Trump era mentioned above, Cuba, its situation and authorities are the same. It could even be added that positive reform factors are present that were not present in 2014. What cataclysms or dramatic turns have taken place in Cuba for the new administration to have the handling of the Cuba issue in a situation of prolonged quarantine until now? None. Conveniences and domestic policy objectives, and first and foremost the dispute to win Florida for 2022/2024, seem to explain these courses of action.
To culminate this flow of hostile currents to the normalization of relations, a kilometric report on human rights violations in Cuba, signed by its Secretary Antony Blinken, emerges from the State Department. It includes a string of accusations including extrajudicial executions, disappearances, torture, etc., etc., which seem to configure a case worthy of Nuremberg…
The sources are almost entirely those opposition organizations trained and paid by the US (as can be documented in US government sources). There are in the Cuban case reprehensible and debatable objections in several areas of freedom of association and expression and other issues, but the monumental dossier of monstrosities pointed out in Blinken's report would seem to be a Hollywood script of the worst, if not a fabulous fabrication of little or no credibility. Blinken seems to forget that all the opponents with whom President Obama met during his visit are still there, in perfect physical condition, writing whatever they want, surfing the cyberspace and waging war with their statements, trips abroad and denunciations, that the UNPACU and the Ferrer brothers continue distributing their little bags of food to gain support, Yoani Sanchez continues with 14 ½, the Catholic clergy makes its criticisms and among the revolutionaries we also find all kinds of criticisms.
And these issues -difficult and controversial- the Cuban authorities discuss them in a civilized manner with the European Union within the framework of Political Dialogue and Cooperation (from which the United States could learn a little), they seek consensus and agreements. If the Cuba described in Blinken's report were true with its extrajudicial executions, torture, disappearances, etc., why has it been actively contributing to the peace processes from Central America to Colombia? Why do the Lima Group, Norway, Canada and Spain seek its mediating contribution? If it were the Cuba that Blinken is trying to "sell" now, how would he explain that three Popes visited Cuba in the last 20 years and chose, by mutual agreement with the Metropolitan of Moscow, Havana (and not Paris, Rome or Geneva) to host their first meeting at the highest level after the Great Schism of Christianity more than a thousand years ago?
So why does the Biden-Harris pairing now assume such a course? If George H.W. Bush in 1989 was able to proclaim the victory of the United States -with God's favor, as he proclaimed- now the Democratic team, based on a sure assessment that "the Cuban regime" is facing the most critical stage of its existence that foreshadows a possible collapse. In view of this -they seem to calculate- it would not make sense for the White House to plan to resume the process that Obama initiated. To do so -it is understood- would provide the Cuban authorities with sufficient political-diplomatic and economic oxygen to refloat their system.
The benefits of this reasoning would ensure -as perceived- a solid backing of Cuban-American and Latino voters in Florida while on a hemispheric scale it would be a very serious setback for the so-called "pink wave" of center-left options and other radical nuances, especially for the civil-military government of Maduro in Venezuela, a certain version of "domino theory."
It is worth noting that such a scenario may be complicated in the short and medium-term by events and trends in the hemisphere that would in no way favor the current Biden-Harris foreign policy. Some of these could have a particularly negative impact on the new administration's policy. Some of them are:
-New rise of the "pink wave" (return of MAS in Bolivia, electoral victory of Arauz in Ecuador, formation of the Patriotic Front as an important challenge to the declining Duque government, possible defeat of the right in Chile)….
-The civilian-military power still headed by Maduro is not cracking or falling down so far…
-The model put to the test against Ortega (Nicaragua), the latter survives the offensive to subvert it…
-The "sabre rattling" in Brazil could well lead to a coup d'état, not so much to put an end to the Bolsonaro disaster, but to prevent it from frustrating the certain victory of Lula in the next elections…
-The crisis on the border with Mexico and the massive immigration (the barbarians are knocking at the doors of the Empire!) overflows the attempts of its management and neutralization, it transcends its local and domestic limits with very diverse regional connotations…
-In such a context, the holding of an upcoming Summit of the Americas may become a major setback for the current foreign policy designs of the Biden-Harris administration that will weaken its attempts for a successful hemispheric primacy, allowing its capitalization by Trumpism in the 2022/2024 contests.
In such a situation, the Biden-Harris policy toward Cuba may face unforeseen setbacks and setbacks that will force it to reorient objectives and priorities, in which case Cuba will have a better chance of survival.
Grandes expectativas, expectativas fallidas:
Biden-Harris y Cuba
Por Domingo Amuchastegui

31 de marzo 2021
Para muchos cubanos los resultados electorales de noviembre del pasado año en EEUU venían cargados de grandes expectativas. La guerra económica impuesta por Trump con sus devastadores efectos debía llegar a su fin y con el binomio Biden-Harris en la Casa Blanca -era aparentemente lo más lógico pensar- se retomaría la dinámica de normalización de relaciones entre Cuba y EEUU iniciada en el 2014. Biden y sus asesores habían participado activamente de esa dinámica y las premisas para retomar el proceso interrumpido por Trump. Sin embargo, a esta altura esas grandes expectativas no aparecen en los horizontes de hoy ni en más distantes escenarios.
Casi cumplidos los inaugurales 100 Dias, el binomio Biden-Harris no han levantado un dedo para revertir parcial o completamente el conjunto de agresiones económicas y politico-diplomáticas acometidas por Trump contra las autoridades cubanas. No han dado un paso siquiera para cumplir los tres pasos que prometieron acometer de inmediato (restablecer la presencia diplomática y consular, los procesos de reunificación familiar y el normal envío de remesas). Se ha argumentado por algunos especialistas que el tema de Cuba no es importante ni prioritario para la agenda demócrata. Si esto fuera así -dada su insignficancia- rápido y de un plumazo pudiera resolverse. Pero, el tema es más complejo y de myor relevancia.
A las propuestas de un centenar de congresistas abogando por reiniciar el proceso de normalización y conducirlo hasta sus últimas consecuencias, no les ha concedido hasta ahora ni la más minima atención o consideración. Las ha remitido al habitual "congelador" o procedimiento habitual para "matar" las propuestas legilativas que no interesan al sistema o la coyuntura.
A esto se añade ahora el que la administración Biden-Harris busca "revivir" el caso del "síndrome de La Habana," capítulo bien esclarecido hace tiempo, incluso en tiempos del propio Trump. Si éste no pudo probar y legitimar ante el mundo ninguna culpabilidad de las autoridades cubanas, ¿qué sentido tiene ahora esta medida?
A esto se engarza una curiosa propuesta congresional promovida por los conocidos senadores Bob Menéndez (NJ) y Marco Rubio (FL) con algún respaldo bipartidista. Se trata de un plan minuciosamente elaborado, con todo lujo de detalles, articulando un cuerpo articulado de presiones, restricciones y sanciones sobre el gobierno de Nicaragua a fin de forzarlo a aceptar la convocatoria de un proceso electoral, a gusto y diseñado por estos senadores. ¿Y por qué contra Nicaragua, el eslabón más débil de la "troika" así caracterizada por John Bolton en su momento? Nicaragua sería el "laboratorio," de cuya eficacia se desprendería su aplicación a los casos de Venezuela y Cuba, los casos que más interesan a estos influyentes senadores. Habrá que ver si se le aplica o no el recurso del "congelador." La propuesta además asegura el beneplácito de sus bases electorales y el beneplácito de poderosos intereses político-económicos cubano-americanos.
Frente a tales tendencias, es legítimo preguntarse: ¿Es acaso la Cuba del presente diametralmente distinta y opuesta a la que Blinken, Mayorkas, Kerry y otros del actual equipo de Biden conocieron en detalle, incluídos los dirigentes cubanos? Salvo los efectos devastadores de la era Trump antes mencionados, Cuba, su situación y autoridades son los mismos. Incluso pudiera agregarse que están presentes factores positivos de reforma que en el 2014 no estaban. ¿Qué cataclismos o virajes dramáticos han tenido lugar en Cuba para que la nueva administración tenga el manejo del tema Cuba en una situación de prolongada cuarentena hasta ahora? Ninguno. Conveniencias y objetivos de política doméstica, y en primer lugar la disputa por ganar la Florida para el 2022/2024, parecen explicar major estos rumbos.
Para culminar este flujo de corrientes hostiles a la normalización de relaciones, surge del seno del Departamento de Estado, suscrito por su secretario Antony Blinken, un kilométrico informe acerca de las violaciones de los derechos humanos en Cuba, que incluyen un rosario de acusaciones que incluyen ejecuciones extrajudiciales, desapariciones, torturas, etc., etc. que parecen configurar un caso digno de Nuremberg…
Las fuentes en su casi totalidad son aquellas organizaciones de oposición entrenadas y pagadas por EEUU (como puede comprobarse documentalmente en fuentes gubernamentales de EEUU). Existen en el caso cubano objeciones reprobables y discutibles en varias áreas de las libertades de asociación y expresión y otros temas, pero el monumental expediente de las monstruosidades apuntadas en el informe de Blinken parecerían un guión hollywoodense de los peores, si no una fabulosa fabricación de escaso o ningún crédito. Parece olvidar Blinken que todos los opositores con los cuales se entrevistó el presidente Obama durante su visita ahí están continúan ahí, en perfectas condiciones físicas, escribiendo lo que se les antoja, navegando por los espacios cibernéticos y haciendo la guerra con sus declaraciones, viajes al exterior y denuncias, que la UNPACU y los hermanos Ferrer siguen distribuyendo sus bolsitas de comida para ganar adhesiones, Yoani Sánchez sigue con 14 ½, el clero católico hace sus críticas y entre los revolucionarios también encontramos también todo género de críticas.
Y estos temas -díficiles y controversiales- las autoridades cubanas los discuten civilizadamente con la Unión Europea en el marco de Diálogo Político y de Cooperación (del que pudiera aprender un poco EEUU), buscan consenso y acuerdos. Si la Cuba que se describe en el informe de Blinken tuviera visos de veracidad con sus ejecuciones extrajudiciales, torturas, desaparecidos, etc., ¿por qué ha venido contribuyendo activamente a los procesos de paz desde Centroamérica hasta Colombia? ¿Por qué desde el Grupo de Lima hasta Noruega, Canadá y España procuran su contribución mediadora? Si fuera la Cuba que Blinken intenta "vender" ahora, ¿cómo explicaría que tres Papas visitaran Cuba en los útimos 20 años y escogieran, de mutuo acuerdo con el Metropolitano de Moscú, a La Habana (y no París, Roma o Ginebra) para sopstener su primer encuentro al más alto nivel después del del Gran Cisma de la cristiandad hace más de mil años?
Entonces, ¿por qué el binomio Biden-Harris ahora asume semejante rumbo? Si George H.W. Bush en 1989 pudo proclemar la victoria de EEUU -con el favor de Dios, según proclamó- ahora la pareja demócrata, a partir de una segura evaluación de que "el regimen cubano" enfrenta la etapa más crítica de su existencia que prefigura un posible desplome. Ante esto -parecen calcular- no tendría sentido que la Casa Blanca proyecte retomar el proceso que Obama iniciara. Hacerlo -se entiende- brindaría a las autoridades cubanas oxígeno politico-diplomático y económico suficiente para reflotar su sistema.
Los beneficios de este razonamiento asegurarían -según se percibe- un sólido respaldo de votantes cubano-americanos y latinos en la Florida en tanto que a escala hemisférica sería un gravísimo revés para la llamada "ola rosada" de opciones de centro-izquierda y otros matices radicales, en especial para el gobierno cívico-militar de Maduro en Venezuela, una cierta versión de "teoría del dominó."
Conviene destacar que tal escenario puede complicarse a corto y mediano plazo con acontecimientos y tendencias en el hemisferio que en nada favorecerían la actual política exterior de Biden-Harris. Algunos de ellos pudieran ejercer una gravitación particularmente negative para la política de la nueva administración. Algunos de ellos son:
-Nuevo ascenso de la "oleada rosada" (regreso del MAS en Bolivia, victoria electoral de Arauz en Ecuador, formación del Frente Patriótico como importante desafío al declinante gobierno de Duque, posible derrota de la derecha en Chile)…
-El poder cívico-militar que todavía encabeza Maduro no se resquebraja ni se cae hasta ahora…
-Puesto a prueba el modelo contra Ortega (Nicaragua), éste sobrevive la ofensiva por subvertirlo…
-Novedoso "ruido de sables" en Brasil que bien pudiera desembocar en una salida golpista, no tanto para poner fin al desastre Bolsonaro, sino para impeder con ello frustrar la segura victoria de Lula en las próximas elecciones…
-La crisis en la frontera con México y la inmigración masiva (los bárbaros tocan a las puertas del Imperio!) desborda los intentos de su manejo y neutralización, trasciende sus límites locales y domésticos con muy diversas connotaciones regionales…
-En un contexto tal, la celebración de una próxima Cumbre de las Américas puede convertirse en un importante revés para los actuales diseños de política exterior de la administración Biden-Harris habrán de debilitar sus intentos por una primacía hemisférica exitosa, permitiendo su capitalización por parte del trumpismo en las contiendas del 2022/2024.
En una situación como esta, la política de Biden-Harris hacia Cuba puede enfrentar tropiezos y contratiempos imprevistos que lo obliguen a reorientar objetivos y prioridades, en cuyo caso Cuba podrá sortear major sus posibilidades de sobrevivencia.