What do Joe Biden and Donald Trump think about the violent demonstrations in Washington? ( + Photos )
U.S. lawmakers were meeting Wednesday to confirm Joe Biden's victory in the presidential election amid protests by Trump supporters both outside and inside the Capitol
Author: Digital Editor | internet@granma.cu
January 6, 2021 19:01:25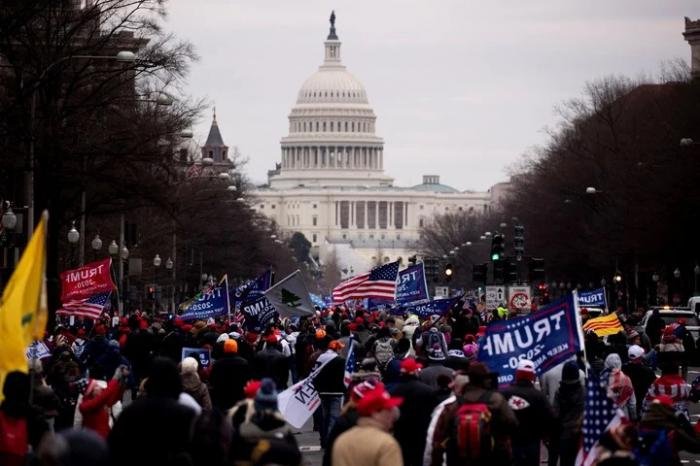 Outgoing U.S. President Donald Trump called on his extremist supporters to stop violent demonstrations in Washington, but insisted there was "election fraud.:
"I don't want anyone to be hurt (…) I love you, you are very special, but go home. I know you are hurt. We have an election that was stolen from us, and you know it, especially from the other side," said Trump according to Telesur TV.
The outgoing president warned that this is a very difficult time, "there was never a time like this, where something like this happened, that something was stolen, from everyone, from you, from me, from the country. It was a fraudulent election".
Trump's call came after a group of extremists stormed Congress to prevent certification of Biden's election victory. At that time, the congress members left the Capitol in the custody of the authorities.
On Wednesday, president-elect of the United States, Joe Biden, repudiated the violent invasion by supporters of Donald Trump in the Capitol that caused the cancellation of the certification of the votes.
"Attacking the capitol, destroying the US Senate, endangering security. This is not a protest, it is an insurrection … I call them mafiosi, they are not attacking democracy," Biden said.
The president-elect rejected the position of Trump's fanatics who attacked the certification of last November's votes, "we are seeing a small number of extremists who are dedicated to breaking the law. This is chaos and it must end now," he added.
"The job in the coming years is to restore democracy, honor and respect. Solve the problems by looking at ourselves without stoking hatred," the new White House tenant said.
Finally, he urged all leaders to work together to recover democracy in the country of the North, "democracy is fragile and to preserve it we need people of good will, courageous leaders, who are not dedicated to power, but to the common interest," he concluded.
U.S. Congress meets Wednesday to certify Biden's victory
U.S. lawmakers were meeting Wednesday to confirm Joe Biden's victory in the presidential election amid protests by Trump supporters both outside and inside the Capitol itself.
A session that, every four years, goes unnoticed by most people has as an ingredient this year the announcement of some Republican senators and representatives, who have pledged to support President Donald Trump's efforts to overturn the result through a formal sessional objection, in an attempt that is almost certain to fail.
The two houses of Congress, the House of Representatives and the Senate, in a joint session this Wednesday will open sealed certificates from all 50 U.S. states containing a record of their electoral votes.
Under the U.S. system, people cast their votes for "electors," who in turn formally vote for candidates weeks after the election, which occurred on December 14, when Biden received 306 votes under the electoral college system, compared to 232 under Trump.