The New York Times

You Are Your Safest Sex Partner. Betty Dodson Wants to Help.
By Ruth La Ferla.
March 26, 2020
Translated by CubaNews
What does it take to make Gwyneth Paltrow blush? Well, it just happens to take a few explicit lessons on how to tune her pelvic floor. Her instructor, Betty Dodson, an artist turned sex educator and evangelist of female self-stimulation, extolled the benefits of Kegelian exercise, which she says helps bring about orgasm.
"Lift, contract, relax," she insisted, causing Mrs. Paltrow, seller of a $75 candle called This Smells Like My Vagina, to blush from her chin to her forehead.
The scene is from "The Goop Lab," a Netflix installment on the Paltrow's (popular among millennials) life regimen business that marked a milestone for the Dodson, giving her more visibility and possibly more relevance than she's enjoyed since she began teaching women how to achieve orgasm half a century ago.
"There are younger women educators now," said Annie Sprinkle, a porn star from the 1970s who became a sex educator and a longtime disciple of Dodson, "but Betty can still give them two turns.
A troublemaker since before the term became fashionable, Ms. Dodson has gained adherents to her ideal of positive sex for decades, urging attendees at the Bodysex workshops she founded in the 1970s to sit naked on her carpeted floor, watch each other's vulvas and learn how to masturbate effectively.
Even before the New York City Health Department stated "you are your safest sex partner" in a highly publicized memo, Ms. Dodson, now 90, was enjoying a timely renaissance. Her message is echoed in her first manual, "Bodysex Basics," co-authored by Carlin Ross, and in a reprint of her 2010 memoir, "Sex by Design: The Betty Dodson Story: The Betty Dodson Story]; in the popular monthly workshops she offers in her Midtown Manhattan apartment (now replaced by online group discussions); in the erotic art that first caught the public's attention (her images of couples copulating, which will be on display this year when the Museum of Sex, of which she is a consultant, reopens); and in www. dodsonandross.com, the website she maintains with Ms. Ross, her business associate and alleged 46-year-old heir.
In "The Goop Lab," Mrs. Ross lies face down in the half-light of a room. Dodson is on top of her, gently applying oil to her genitals using a gradually accelerating massage technique, and whispering softly as he guides Mrs. Ross to an eventual climax.
If the earth trembled for Mrs. Ross, it was not noticed. Aside from her shaky breathing and the occasional shudder, the audience saw and heard nothing like the sound and visual fireworks that have always been the mainstay of heterosexual pornography.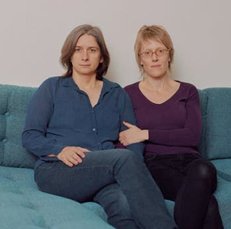 The accusations were false. But could we prove it?
If it seemed dull by comparison, Ross said, "it's because it wasn't an acting orgasm."
Before the spread of the new coronavirus that forced New Yorkers to isolate themselves, she was chatting in the office-bedroom where they both write and plan their projects.
A golden penis with wings, one of Ms. Dodson's many curious awards, takes pride of place on one of the top shelves of a bookcase full of videotapes she has promoted-such as "Viva la Vulva"-and several of her early works, including "Sex for One: The Joy of Self-Love," her landmark first manual (1987) on female masturbation.
Work tools: Magic Wand Vibrators that Ms. Dodson uses in her workshops
The Dodson made her entrance dressed in a gangly bathrobe whose top pocket is decorated with the letters B.A.D., "my initials, Betty Anne Dodson," she said squinting before returning to her song.
Of course, the orgasm can be noisy at times. "However, the sounds are usually much more guttural, deep and animalistic," she said. "The legs shake, the whole body trembles. I've never seen that in pornography."
Why then do so many women feel compelled to put on a show enriched by a soundtrack of moaning and heartbreaking screams? "Men don't want to see a real orgasm, they want porn," the Dodson pointed out with a sharp edge. "It's an ego thing. They want to see the kind of effect they have on a woman."
"A real orgasm," he added, leaning forward for emphasis, "no matter where it comes from, it's something that women get."
Here is a basic precept of his teachings. "You must lead" intercourse, he asks women earnestly: Take charge, that is, actively participate in your own pleasure. If you are with a partner, "Take her to do what you want," he said almost angrily. "Find the position you want."
In his opinion, masturbation, whether manual or with battery-powered devices, is the cornerstone of sexual fulfillment, a catalyst for pleasure, and, more than that, the reliable basis for social and emotional independence.
"My instinct told me," he writes in his monograph, "that sexual mobility was the same as social mobility. Men had it and women didn't."
Her commanding, subversive and even inflammatory attitude of the early 1970s did not sit well with some feminists who considered Mrs. Dodson's notion of mating to be mechanical and unconnected. Moreover, they were too focused on protesting the abuse and humiliation they suffered at the hands of men. "They were always complaining," she recalled with irritation.
Other trifles about the Dodson's bureau.
Shee responded, unflappable, with a model of sexual awareness. The total repudiation of romantic love was vital to his message. "Romance is a very serious thing," he said in his apartment. "It's no longer that paradigm that I have to love you and you have to love me back."
Ms. Ross intervened: "Sex can be playful, more like, 'Let's have fun.'"
Ms. Dodson's epiphany came after a lurid and sexually uninspiring marriage in the early 1960s to Frederick Stern, an advertising manager. The couple did not have children, and the Dodson, who grew up with three brothers and sisters, did not have them in her future plans either. "I saw what my mother went through," he said. "It's the most thankless task on the planet."
Being free to experiment, he explored group sex with women and men, in order, he said in a 1970 New York Times interview, to give up feelings of jealousy and possessiveness "to understand that I could love more than one person.
In time, she became disillusioned. "Organized group sex is kind of like the children's league of bowling," she said at the time. "It's super-compulsive, with frenetic traits. It's weird."
She used the small amount she received from her divorce to fund the first of the women's sex workshops that would become her livelihood and vocation. At these meetings she encouraged the often nervous participants to strip down, discover their bodies and adopt practices that included clitoral massage and the use of the Magic Wand, the hard-to-handle but highly effective vibrator she promotes and sells through her website, Dodson & Ross.
Her short gray hair and wise demeanor invite comparison with Dr. Ruth Westheimer, the cozy and entertaining sex guru of the 1980s. The Dodson doesn't accept it. "Dr. Ruth is your grandmother with a funny accent," she likes to say. "You never listen to what she says."
The comparison is accurate… to a certain extent, Mrs. Sprinkle said. "With Dr. Ruth there are no risks, while Betty is nervous, a permanent explorer of sexuality. She has the kind of experiences even her youngest followers will never have."
Mrs. Dodson, an artist to the core, has cultivated a character that fluctuates between the rough and the smooth, and sometimes knows how to be mockingly funny. Since her doctor declared her healthy last month after a routine check-up, she started smoking for the first time in years.
"Why not?" she said with a snort, "I'm going to live forever." But when Ross suggested that I was free to light a cigarette whenever I wanted, she was upset. "I'll decide when to smoke."
Mrs. Dodson's teachings, innovative in their time, are unlikely to frighten young women who grew up watching pop idols like Miley Cyrus, Nicki Minaj and others who are suggestively caressed in both their videos and concerts.
Also, the lyrics of their songs make self-stimulation seem as normal as going out and shopping. "Oh what an ordinary day," sings Annie Clark, known professionally as St. Vincent, in her single "Birth in Reverse" (2014). "Take out the trash, masturbate…"
Young people can immediately turn to online guides such as "How to Masturbate, Female Style: 8 Steps to Having Orgasms" in Bustle, with handy instructions, as the author writes, "because knowing several ways to have an orgasm is a skill everyone should have.
Similar naturalness supports the somewhat simplistic claim of Flo Perry, a 27-year-old British writer and illustrator, in "How to Have Feminist Sex: A Fairly Graphic Guide," that masturbation is not much more than "a form of self-care.
However, some of the younger girls seem to prefer Ms. Dodson's manual approach (if you'll excuse me). The lessons she offers on the Internet have many clients, about half of whom are between 24 and 40 years old, according to Ms. Ross. Few can respond to the outpouring of anger that characterizes Dodson's writing and fuels her conversation.
In her paper, she recalls the case of an older friend who made a touching suggestion to her best friend. The Dodson grabbed a knife from above the cutting board and angrily said, "You better leave before I stick this knife in your stomach."
In other cases, however, Mrs. Dodson seems inexplicably cooperative. In her writing she describes an encounter in her backyard with a half-naked stranger, who approached her threateningly from behind. Feeling that the man was about to pounce on her, she turned around, unbuckled her seatbelt, pushed him into a chair and rode on top of him.
It's an amazing incident to read about, especially in the era of #MeToo, when Dodson's seemingly cavalier attitude sounds like heresy. But she's not willing to back down. "If you don't know martial arts," she says, resisting a man during an attack "is useless in most cases. Men are bigger and stronger. I don't care how many reasons you have: fighting doesn't work."
Your relationship with the more robust sex can be sourly dismissive. "Men are very two-dimensional," he said. "If there's anything interesting about them, it's the women they've been with."
Ms. Ross reminded the Dodson that at the age of seventy-something she had a 25-year-old lover, with whom she lived for a decade. For Mrs. Dodson, the memory still sparks.
"He was so beautiful," she said amidst nostalgic sucking on a Marlboro Light. "He had the perfect body, broad shoulders, good-sized genitals and strong bones. Oh, and he smelled so good! With that youth and lots of soap and water."
"I'm done with partner sex," he continued. "But I wouldn't turn down a good-looking guy if he came in here now."
Not having a partner is no reason to leave the field, he added, as if such a thing, confiding in me that he still smokes marijuana occasionally ("Without it I wouldn't be here."), sometimes as a prelude to casual sex alone. There's no point in lying around idly waiting for desire to take over.
"We feel the desire once we get aroused," he said. "Don't wait for your spirit to move you, because it never will."
A version of this article is printed on March 26, 2020 in Section D, Page 1 of the New York edition, under the title: The Soothsayer of Solo Sex. Order Copies : Today's Newspaper : Subscribe