About "Those Dangerous Cuban Spies"
By Emilia Vera Da Souza
Translated by Stefanie Levi for CubaNews.
from PostCuba blog, who got it from the Argentine blog Opina Mendoza.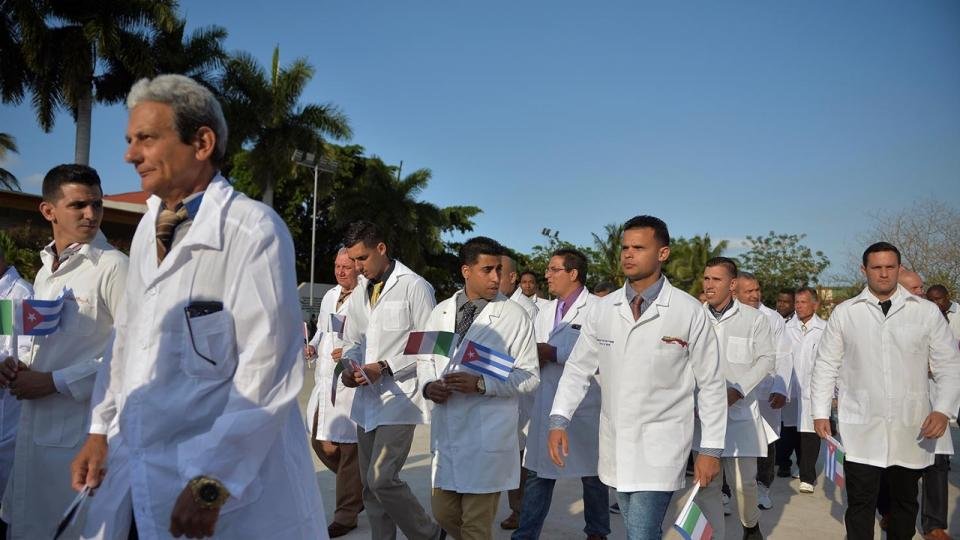 I suppose that it's true…
Cuba, in the midst of this global health and economic crisis, decides to come spy and take some jealously guarded secrets [from] the concentrated centers of the elaboration of Argentinian thought, science and technology.
First, they must find where the centers where thought is elaborated, where science secretly investigates the most interesting issues for the advancement of world conquest and where they apply the technologies that will allow us to dominate planet Earth are located. Where? The Cuban spies ask themselves. And those of us that are not Cuban [ask ourselves], also.
Another problem for the Cuban spies. Who? What people are they that, in a hidden and surreptitious manner guard the most interesting issues of Argentinian intellectual development? Will these be in the communication media, well-camouflaged, where the most elaborate national thought is shown?
Will they be in companies that, so that nobody knows, they are paid poverty wages, but their owners have them well-guarded in impregnable dens, the results of their effort and they live publicly superficial and skin-deep lives in order that the Cubans do not take their best production?
Will the most advanced thoughts be in the political parties, hidden so that the Castro-communist ambition and egoism do not have access [to them]?
Will it be in the most recondite estates of justice, the secret that the Cuban spies seek so much, right there where the most elaborated of free thought is preserved, in order to better the lives of the citizens? And, so that it is not stolen, they do not show it, not even in the most hermetic places of the doctrinaire bureaucracy.
The most serious problem for the Cuban spies is to hide themselves. Everyone already knows that for a better performance of conspirational espionage, it is advisable to use a good cover-up, a good costume, scenery, a masquerade, makeup. And the Cubans lack precisely all of that.
They are recognizable at a distance by their tone of voice. They cannot speak without shouting. They usually have a skin color quite difficult to disguise. Nor are they able to minimize their peculiarities when they communicate: they always talk like Cubans, including when they speak in other languages.
They use easily identifiable insults: Come mierda (eat shit), hijeputa (motherfucker), que tu no sabes nada (that you know nothing), que ni lavas ni prestas el fregadero (you will not get anything), que te den candela (that they will give you fire), jinetera (?), concha de tu madre (your mother's pussy), chico (dude) and other things like that.
They always substitute the letter "R" for an "L". Because of this, they are able to spy on China.
It is also possible to recognize a Cuban by their style of walking. Carefree, as if tired, with a cadence of step that seems more like a dance move than [simply] a mode of moving.
And finally a bit of information: in order to recognize a Cuban spy it is advisable to put on some salsa music, a son or an island bolero, and if they start to move to the rhythm of the drums, they are undoubtedly Cubans.
Now… if they are well-seen, it can be observed that they usually walk with white overalls, stethoscopes hanging from their necks, with a little book in a bag and they take notes with very short pencils, spent from so much use.
They walk measuring the fevers of the miserable and sick in different corners of the world. They take care of children. But they take care of them so much that they do not have a single illiterate. But there is not one, not even a very little one that goes hungry.
They always circulate more closely to the places where the poverty of the skyscrapers nests. They move proudly, as if they have made a revolution. They shout calling attention and when they are silent, they also attract attention. They mention Fidel as if they know him.
They love Che and the Argentinians, as if they were the same. They hug wildly as soon as they make friends with someone and they leave from the island, full of consumable goods, according to foreign tourists, but, always, always, always each one (all) want to return to Cuba.