A significant loss for the cause of peace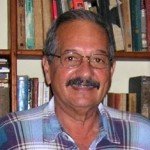 By Manuel E. Yepe
http://manuelyepe.wordpress.com/
A CubaNews translation.
Edited by Walter Lippmann.
A CubaNews translation. Edited by Walter Lippmann
With the recent death of Cuban Orlando Fundora, on February 2nd, at age 90, the global struggle for peace has lost one of its most illustrious fighters.
This was expressed with regret at the World Peace Council (WPC), where Fundora was Honorary President.
Orlando Fundora began his revolutionary actions in the student struggles of the Instituto de Segunda Enseñanza [High School] and the Escuela de Comercio [School of Commerce] in the city of Santa Clara in the center of the island.
In1945, he began working at a branch of the Royal Bank of Canada in Havana. There he became a prominent union leader within the banking system. For his participation in workers' struggles he was the subject of systematic police persecution.
In 1954, he joined the July 26 revolutionary movement led by Fidel Castro, and participated in numerous revolutionary activities for which he was arrested six times, imprisoned, and repeatedly cruelly tortured by the repressive forces of the tyrannical regime of Fulgencio Batista.
Between 1957 and 1959, when he was forced into exile, he continued his patriotic struggle in Venezuela. For helping the revolutionary movement in that country he was arrested by the Venezuelan political police.
After the triumph of the revolution in Cuba he participated as war correspondent in Cuba's defense against the mercenary invasion of Bay of Pigs in Playa Girón.
He took office as director of Cuba's international broadcaster Radio Habana Cuba and later served for a brief period as director of Prensa Latina news agency.
In 1966, Fundora was promoted to the Foreign Relations Committee of the Central Committee of the Communist Party of Cuba (PCC) and was appointed Chief Information Officer of its International Department. In 1973, he was appointed Head of the Departamento de Orientación Revolucionaria [Department of Revolutionary Orientation] of the Central Committee of the PCC.
In 1985 Orlando Fundora became President of the Movimiento Cubano por la Paz y la Soberanía de los Pueblos (MOVPAZ) [Cuban Movement for the Peace and Sovereignty of the Peoples] a position he held until 2006, when he had to step down due to health problems — mainly orthopedic ailments derived from the police tortures he suffered during his revolutionary struggles against the tyranny of Fulgencio Batista.
With support, encouragement and material support from the USSR and the Socialist countries and Communist parties aligned with the USSR, the World Peace Council (WPC) was born at the end of World War II as an open organization for the participation of other forces with different political orientations.
Because of this inevitable dependence, conflicts and divisions within the international communist movement were immediately reflected in the WPC. The collapse of the European socialist bloc –and especially the disintegration of the USSR at the beginning of the 90s– seriously threatened the WPC's survival.
All member organizations of the former socialist countries in Europe were dissolved and only the political will of a group of formations –among which the Cuban played a leading role– managed to keep the World Peace Council.
However, the WPC had to overcome many and very powerful obstacles to survive.
It had to face trends toward surrender rooted in a social democratic orientation that still exist in some organizations in Europe and other parts of the world that resist the WPC playing an active role in confronting imperialism.
At the WPC Assembly held in Athens, Greece, in 2000, Fundora conducted intense activity for unity within principles that was instrumental in revitalizing the organization (which then changed its headquarters to Athens) and stated the objectives of the WPC's struggle against imperialism.
In recognition of the leadership of the Cuban Movement for Peace (MOVPAZ) in the process of fighting for the survival of the WPC, the WPC Assembly in May 2004 in Athens, Greece, elected Fundora –by consensus without opposition– President of MOVPAZ, as President of the WPC. In the following Assembly, held in Caracas in 2008, he was elected Honorary President of the world organization, a rank he held with dignity and which he served until his death.
In announcing the sad news of his death, the WPC said that they had lost a tireless champion in the struggle for peace and socialjustice, a man who dedicated his life to the revolutionary anti-imperialist struggle and to the just cause of the poor and oppressed around the world. He will be remembered and will serve as an example for future generations.
February 4, 2016.
Sensible perdida para la causa de la paz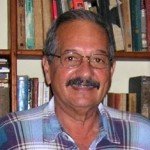 Por Manuel E. Yepe
http://manuelyepe.wordpress.com/
Tras el fallecimiento del cubano Orlando Fundora López el reciente dos de febrero, a la edad de noventa años, la lucha mundial por la paz ha perdido a uno de sus más insignes combatientes.
Así lo anunció, con pesar, en Consejo Mundial por la Paz (CMP), del que Fundora era Presidente de Honor.
Orlando Fundora inició su accionar revolucionario en las luchas estudiantiles del Instituto de Segunda Enseñanza y la Escuela de Comercio de la ciudad de Santa Clara, el la región central de Cuba. A partir de 1945 trabajó en la sucursal del Royal Bank of Canada en La Habana, donde se formó como un destacado dirigente sindical en el sistema bancario. Por su participación en luchas obreras era objeto de sistemática persecución policial.
En 1954 se incorporó al movimiento revolucionario 26 de Julio encabezado por Fidel Castro, y participó en numerosas actividades revolucionarias por las que fue seis veces detenido, encarcelado y en varias ocasiones cruelmente torturado por las fuerzas represivas del régimen tiránico de Fulgencio Batista.
Entre 1957 y 1959, cuando se vio obligado a exiliarse, continuó su lucha patriótica en Venezuela. Por su colaboración con el movimiento revolucionario en ese país fue detenido por la policía política venezolana.
Después del triunfo de la revolución en Cuba participó en calidad de corresponsal de guerra en la defensa cubana contra la invasión mercenaria por la Bahía de Cochinos, en Playa Girón; asumió el cargo de director de la emisora internacional cubana Radio Habana Cuba, y, más tarde, se desempeñó por un breve período como director de la agencia de noticias Prensa Latina.
En 1966, Fundora fue promovido a la Comisión de Relaciones Exteriores del Comité Central del Partido Comunista de Cuba (PCC) y designado jefe de información de su Departamento Internacional. En 1973, se le nombró jefe del Departamento de Orientación Revolucionaria del Comité Central del PCC.
Orlando Fundora López asumió en 1985 la presidencia del Movimiento Cubano por la Paz y la Soberanía de los Pueblos (MOVPAZ) que desempeñó hasta 2006, cuando debió dejar el cargo por problemas de salud, fundamentalmente ortopédicos, derivados de las torturas policiales sufridas durante sus luchas revolucionarias contra la tiranía de Fulgencio Batista.
Con apoyo, estímulo y respaldo material de la URSS y los países socialistas y partidos comunistas alineados con la URSS, el Consejo Mundial por la Paz nació al término de la II Guerra Mundial como una formación abierta a la participación de otras fuerzas de diferente signo político.
Debido a esta inevitable dependencia, los conflictos y divisiones en el movimiento comunista internacional se reflejaban en el CMP de manera inmediata y el desplome del campo socialista europeo y especialmente la desintegración de la URSS, a inicios de la década de los 90, amenazaron seriamente su supervivencia.
Todas las organizaciones miembros de los que fueron países socialistas en Europa se disolvieron y solo la voluntad política de un grupo de formaciones, entre las que la cubana desempeñó un papel preponderante, logró mantener vivo al Consejo Mundial por la Paz.
Muchos y muy poderosos han sido, sin embargo, los obstáculos que el CMP tuvo que solventar para sobrevivir.
Tuvo que enfrentar tendencias claudicantes de orientación socialdemócrata que aún existen en algunas organizaciones de Europa y de otras partes del mundo que se resisten a que el CMP juegue un papel activo en el enfrentamiento al imperialismo. En la Asamblea del CMP que tuvo lugar en Atenas, Grecia, en el año 2000, Fundora desempeño una intensa actividad a favor de la unidad dentro de los principios que contribuyó decisivamente a la revitalización de la organización (que entonces cambió su sede para Atenas) y precisó los objetivos de la lucha del CMP contra el imperialismo.
Como reconocimiento al liderazgo del Movimiento Cubano por la Paz (MOVPAZ) en el proceso de lucha por la supervivencia del CMP, la Asamblea del CMP de mayo de 2004, en Atenas, Grecia, eligió por consenso, sin oposición alguna, el Presidente de MOVPAZ, Orlando Fundora López, como Presidente del CMP. En la siguiente, celebrada en Caracas en 2008, se le eligió Presidente de Honor de esa organización mundial, dignidad que conservó y a la que sirvió hasta su fallecimiento.
Al dar a conocer la triste noticia de su deceso, el CMP destacó que se había perdido un campeón incansable de la lucha por la paz y la justicia social que dedicó su vida a la lucha revolucionaria y antiimperialista, a la justa causa de los pobres y oprimidos de todo el mundo y que será recordado y servirá como ejemplo para las generaciones futuras.
Febrero 4 de 2016.