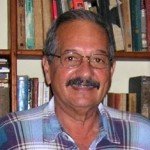 By Manuel E. Yepe
http://manuelyepe.wordpress.com/
Exclusive for the daily POR ESTO! of Merida, Mexico. 
Translated and edited by Walter Lippmann. 
Patrick Joseph Buchanan is an American writer, broadcaster and political commentator characterized –because of his ideological orientation—as fascist and ultraconservative. He began his political career with Richard Nixon and then went on to work as senior advisor to Gerald Ford and Ronald Reagan. 
He ran several times for the presidency of the United States. In 1982, he began working on the TV show Buchanan-Braden sponsored by the Central Intelligence Agency (CIA), and became a main voice with CNN, MSNBC, and Fox News until 2012, when he was kicked out for racist.
With such a resume, one understands why Pat Buchanan asks, on December 18, on his official website, "Could the United States carry out a Cold War containment policy against the other two existing military powers, while maintaining its defense commitments with dozens of countries around the world? And if we could, how long could we keep on doing it, and at what price?
His doubts are based on three arguments:
"Firstly: because we have repeatedly intervened militarily in the Middle East where no vital U.S. interest was in danger, and got trapped in the eternal war of that Muslim region.
"Secondly: for having extended NATO's alliance to Eastern Europe, the Balkans and the Baltic, thus triggering a Second Cold War with Russia.
"And thirdly: because the United States had been supporting China for decades, before acknowledging that it was turning into a superpower whose ambitions in Asia and the Pacific could only be achieved at the expense of  countries friendly to the US."
The question now being asked by Buchanan is different: Can the United States carry out a Cold War containment policy against the other two great military powers of our time, while maintaining its Cold War commitments to dozens of countries all over the world? And, if so, for how long can we keep on doing it, and at what price?
"Very late has the American establishment become aware," says Buchanan, "of the historical madness of having accompanied China on the world stage trying to buy their lasting friendship with the sale of trillions of dollars of our trade surpluses from Bush to today."
For Buchanan, the problem lies in the fact that China has not reciprocated properly to US courtship, and not in the impressive boom that the Asian giant has been achieving without the suffocation it had experienced at the hands of the West until the end of the Cold War. 
"Beijing has reaffirmed its sovereignty over the South China Sea. It has built air and missile bases on half a dozen islets in dispute; and has warned U.S. ships and airplanes to stay away.
"China has built and leased ports and bases from the Indian Ocean to Africa. It lent billions to poor countries in Asia and Africa, such as the Maldives, and then when these nations could not fulfil with the debts contracted, China demanded compliance with the commitments undertaken as a basis to build their facilities."
China has sent hundreds of thousands of students to colleges and universities in the United States, and Buchanan says that many of them have devoted themselves to espionage.
Buchanan accuses China of all the evils the capitalist system has been facing on a global scale. He says Beijing kept its currency below its market value to maintain its trading advantage and attract U.S. corporations to China where, he thinks, they're pressured to transfer their technological secrets to China.
Among other things, he blames China for taking part in the cyber theft of millions of personnel files of U.S. federal applicants and employees and the credit card and passports numbers of millions of US hotel guests the world over for years; and even for the cyber-security beaches that facilitated the theft of data on the United States F-22 and F-35 aircraft, information which is believed to have played an important role in the development of the fifth generation of Beijing combat fighters.
For decades," says Buchanan, "we have been funding the development of a China whose ambition is to drive us out of East Asia and the Eastern Pacific, and replace us as the first power in the world."
However, Washington's commitment to China has failed and has the US facing a new adversary with a population and an economy ten times larger than those of Russia
.
December 20, 2018.
This article can be reproduced quoting journal POR ESTO as its source.