The paparazzi and their share of the blame
By Rolando Perez Betancourt
2009
A CubaNews translation.
Edited by Walter Lippmann.
For several days now, the international press that covers show business and their scandals was making a lot of fuss over millionaire Paris Hilton going to Europe to "meet" soccer star Cristiano Ronaldo, best man in the courts today.  
FARRAH FAWCETT
Would they begin an affair? Can the Portuguese escape the seduction of this romance collector? These were some of the expectations around the young star, who was recently acquired by the Real Madrid at an unpronounceable price, and the so called blond of gold. Her merits list is larger, more because she comes from a rich family and for the scandals she never stops creating, than for her performances as actress, model and singer. 
Everything seems to indicate that the boy saw her for some minutes, smiled courteously and continued on his way to training. The tall queen of the media, slighted, declared that he had looked "somewhat feminine." 
Soon after, Cristiano Ronaldo was again in the spotlight, not because he is a sports star, but for kicking the car of a paparazzo that was following him on the streets of Lisbon. The soccer star explained in a press release that up to that moment, he had put up with weeks of harassment by sheer self control. But, the image hunter had not taken into consideration that his victim was traveling with his mother. And, one doesn't disrespect someone's mother!  Therefore, if such a situation repeated itself, he would probably react in the same way.  
 The almost coincidental deaths of Michael Jackson and actress Farrah Fawcett have put the topic of the paparazzi again on the table. And in passing, the fatal accident of princess Diana of Wales while escaping from a group of them in Paris is also remembered. 
Jackson was constantly harassed in his intimacy and Farah Fawcett, who was a cancer victim, left a bitter testimony, days before her demise, accusing the press and the paparazzi of being decisive in the deterioration of her health. They took photographs of her in a wheelchair showing her fragile and haggard. "I asked them to please leave me to fight my illness alone, but they never heard me, they harassed me, they wanted to be beside me every step till the end and it is already known that cancer feeds on stress."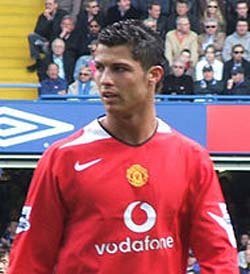 CHRISTIANO RONALDO
Technological development –digital cameras and Internet for quick transmission—have made paparazzi proliferate and the competition is ferocious. Some of them are employed and some are independent. And, sometimes they are the ones who pay the so called "stars brokers", who detect what public figures are doing and locate them. Then the paparazzi speed off by motorcycle, car or airplane to wherever they are. Their objectives are very specific following a unique and unalterable concept: all embarrassing situations are profitable! It doesn't matter if they are infidelities, evident or imagined, accidents, carelessness of a physical nature (poor Britney Spears and others), being nude in the high seas or in restricted areas, and, most of all, sexual scenes. 
In extreme situations, when the intrusion is of such proportion that it defies human understanding, almost all reproaches are usually made to the paparazzi and people forget that –although guilty– they are part of a mechanism that starts higher up. It begins where the owners of big businesses, generally printed media competing with each other, print just about anything "weird" about show business stars. 
These are stars that they frequently help manufacture and then go after them and destroy them. All this on behalf of a reader –equally manufactured–that, without realizing he is being manipulated, pays to see what lies behind the curtains of the famous. 
And of from there, the paparazzi take their share (of the blame).