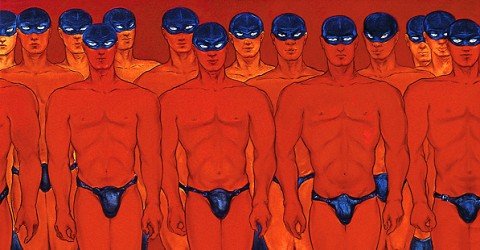 Marriage Between Two Persons,
or, The New Revolution of '68
July 21, 2018
Translated and edited by Walter Lippmann for CubaNews.
The first televised summaries of the debates in the committees of the National Assembly of People's Power on future constitutional reform in Cuba confirmed Friday that the draft of the new Constitution proposes to redefine marriage as the voluntary union between two persons with legal capacity for this purpose, and incorporates the principle of non-discrimination based on sexual orientation and gender identity.
According to one member of parliament, when asking for clarification on this issue, the new formulation on the matrimonial institution would be contained in article 68 of the proposal to be discussed and approved by the highest legislative body in the first ordinary session of the current legislature this weekend.
Hardly anyone escapes the fact that this amendment to the old 1976 Constitution, which reduced marriage to the bond between a man and a woman, would be the open door for later progress in the legalization of homosexual couples.
The principle of non-discrimination on the basis of sexual orientation and gender identity – contained in another article along with several other grounds of discrimination – would also allow for the progressive incorporation of other legal norms and public policies that would protect and equalise the rights of lesbian, gay, bisexual, transgender and intersex (LGBTI) people in our country.
Of course, this is not the only major change, nor the only one that should interest and mobilize LGBTI people. As citizens, we have to be concerned about the fairness and complete perfection of our next law of laws, because it not only defines our sexual orientation or gender identity, neither as human beings nor as patriots.
However, we must be aware that the incorporation of a broader concept of marriage into this draft is only the first step on the road to the adoption of a new Constitution which will ensure greater legal guarantees for the specific LGBTI population.
After its approval in Parliament, this draft bill will have to go through a broad popular consultation with all citizens. This will be a deeply democratic process very similar to the one we already experienced during the debates promoted by the Communist Party of Cuba on the conceptualization of the economic and social model of socialist development. These are the bases of the strategic development plan until 2030 and the guidelines of the economic and social policy of the Revolution.
Based on the results of this consultation and on the consensus that we will be able to reach with all citizens, the National Assembly will have to consider and approve the final draft of the new constitutional text, which will be submitted to a vote by popular referendum, in order to seek its final promulgation.
So, months of hard work lie ahead. Activists and specialists, political and religious personalities, women and men of all sexual orientations and gender identities who understand justice and the revolutionary nature of this very human cause, we will have to fully attend this discussion in every neighborhood and workplace.
The fight won't be easy. There are ideological and political positions opposed to these changes. Their representatives will do everything they can to ensure that these dreams, which are now possible and already so close, will come to nothing. Some are powers that believe they have the strength of many centuries of prejudice, stigma and taboos in their favor, which they want to impose on all of society as traditions and customs, or false natural or divine notions.
Nobody's giving us anything. Our mission will be to offer arguments, explain experiences, transmit emotions that persuade and convince, illustrate and generate empathy, inspire and move.
Everyone should do it from their own perspective, according to their own possibilities of expression, with total honesty and frankness, without fear or shame. In every context and circumstance, let us use the language and tone that the occasion warrants. The scientific approach will be very useful, but also the intimate anecdote, the familiar and friendly reference, the hard episode of the past, the hope that already contains our best present.
Let us not rule out any recourse, provided that what is said is sincere and true, from reason or passion, and even from both. But we can't stop speaking out. All of us, no matter if it may seem like a reiteration, or if we believe that someone has already said it before or said it better.
Nor should we think that if no one speaks out against it, there is no need to speak out in favor. If we do not say so in our meeting, perhaps in another meeting where we were not or will not be, the contrary position will appear, and there will be no one to defend this cause. Silence is not an option. Every opinion counts.
In particular, I urge LGBTI people to engage in all the spaces of debate within our reach, so that our families, work groups, and neighborhoods, know who we are and what we are worth, and why we consider this step to be just and revolutionary, even beyond our own particular well-being or benefit.
This year we commemorate the 150th anniversary of the Revolution of 1868, the one that began our struggle for freedom, collective and individual. In another year 1968, a century later, the Western world was shaken up by great revolts between one of its many components, the so-called sexual revolution of those decades.
By pure chance, that is the same number that corresponded to the article that could cover marriage between two persons, regardless of their gender, in the next Constitution of the Republic of Cuba. So we can and must participate: it is our new revolution of '68.
Who is Paquito?
I am Francisco Rodriguez Cruz, also known as Paquito, from CUBA; I am a Marti follower and an author; I am a communist and gay journalist; I am a convinced and superstitious atheist; I am the father of a son whom I have adored and have been a partner for fifteen years with a seronegative man who loves me; I have been an AIDS patient since 2003 andam a survivor of non-Hodgkin's lymphoma for more than twelve years; I am a university professor and a student of life; a follower of Cuban economic issues and a passionate devourer of universal literature; an incontinent and belligerent moderate; a friend of my friends and a compassionate friend of my enemies; often wrong and never repentant; a hardened and eternal enthusiastic optimist; alive and kicking; in short, another ordinary man who wants to share his story, opinions and desires with you…