March to Renew Calls for Strengthened U.S. Arms Control
Translated and edited by Walter Lippmann for CubaNews.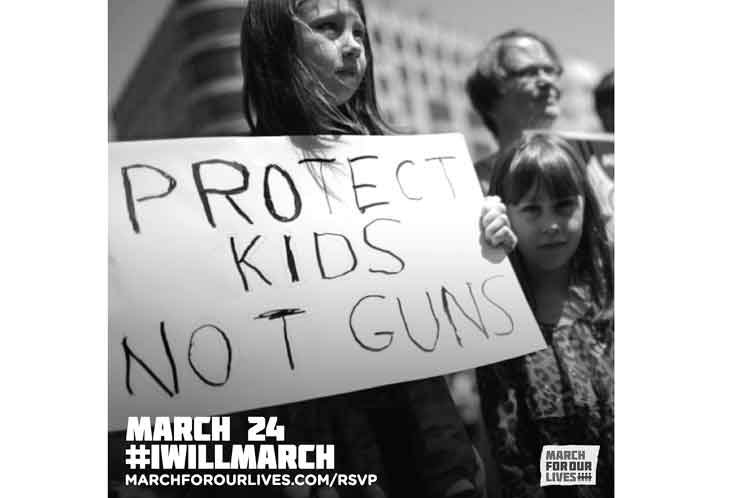 Washington, Mar 24 (PL) New calls to strengthen gun control in the United States will emerge today during the March for Our Lives in this capital and hundreds of other U.S. cities and countries.
The initiative, which will begin here at noon near the Capitol, is organized by the Never Again movement, which was born out of the will of survivors of the deadly February 14 shooting at the Marjory Stoneman Douglas School in the city of Parkland, Florida.
On that day, former student Nikolas Cruz, 19, killed 17 people and wounded the same number with a legally acquired AR-15 rifle.
A pro-gun control group, Everytown for Gun Safety, is also helping students plan and coordinate the event, which has among its demands restricting the sale of large quantities of ammunition.
According to the official website of the march, for which celebrities such as George Clooney and Steven Spielberg have contributed monetary resources, the idea is also to create a law banning assault weapons used in mass shootings.
It also seeks to strengthen the system of background checks for buyers of such devices, including those who obtain them online or at gun shows.
The day before, Marjory Stoneman Douglas students met in Washington D.C. with Congress members, who were demanded many more actions against guns.
"America, we are your future. Why won't you protect us?," asked student Demitri Hoth during a press conference at the Capitol with dozens of colleagues.
In his opinion, the politicians still have 'time to do the right thing', and he insisted that 'we students have been victims of the obvious inaction of our government, but never again'.
Other students also attended a vigil at the National Cathedral and a concert led by the rock band Fall Out Boy, according to press reports.
'This is a time for action. We need the support of Parkland youth and children across the country,' said Pete Wentz, a bass player in the group, in a statement.
We support them and we must demand that our legislators do more to end this gun violence crisis,' he added.
Some Democratic legislators in favor of the Never Again movement's stance attended the press conference and argued that student pressure has made a difference.
Specifically, they referred to a proposal included in the spending plan for government operations through September that will encourage state and federal authorities to report more data to the background check system for weapons buyers.
tgj/dsa