Buffalo Bill and the Other's Revolver
Author: 

Translated and edited by Walter Lippmann for CubaNews.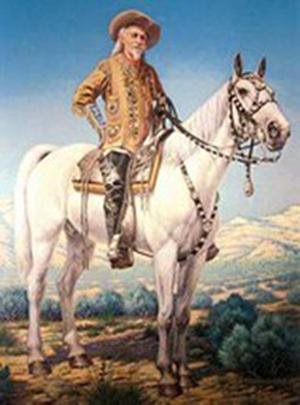 On the 100th anniversary of his death, it has to be agreed that it was the spectacle, "show business", that turned Buffalo Bill (1846-1917) into a legendary being and, at the same time, one of the par excellence promoters of firearms in the United States.
Buffalo, which was actually called William Frederick Cody, served as an army scout in the conquest of the West and also as a bison hunter to supply meat to the workers of a railway company. Having participated in the 1876 Sioux War allowed him to wear showman's clothing for 20 years in a show that toured his country and Europe.
The two decades during which "Buffalo Bill conquered the West" came be the number one of the international shows that triumphed at the time, including Ringling [Brothers] Circus. It could be seen there, always in an excellent version in heroics, the old explorer fighting the Indians, among whom was Chief Toro himself seated, converted, or reduced by then, to one of the attractions of the troupe.
Numbers of cowboys, persecutions, beautiful galloping horses, all inspired by the border law, established thanks to a policy of territorial expansion carried out with the support of modern weapons. Standing in the center of his circus, holding a rifle, Buffalo Bill made an apology presenting them as heroes in the conquest of the West.
"Only one weapon in the hand will stop the other," he used to condemn as a forerunner of an ideology of violence that would later become a cultural reasoning enthroned in much of American society. A firearm is a right and a protection "has been tried to make citizens believe, along with the support of an entertainment industry that extols each other's death for the sake of life. This, unfortunately, translates into a staggering figure: 117,000 people are shot in the United States each year, statistics that involve both aggressors and defenders.
Buffalo Bill's time coincided with the creation of the National Rifle Association (1871) that had in the showman one of its champions. It is an entity that, to this day, and from its economic power, has not ceased to foster close relations with American political power.
Now, on the 100th anniversary of the death of showman Buffalo Bill, another showman, President Trump, defending "bang-bang" culture", makes us remember the extinct persecutor of Indians. He declares, to the bewilderment half the world -and referring to the shooting in Texas, in which a young white man killed 26 people in a church and wounded 20- "fortunately, someone else had a gun and fired in the opposite direction".