Broad popular support for MAS in Bolivia
The audiovisuals show a compact crowd, with the presence of many young people carrying the flag of the original peoples, known as Wiphala
Author: Granma | internet@granma.cu
February 3, 2020 23:02:39
Translated and edited by Walter Lippmann for CubaNews.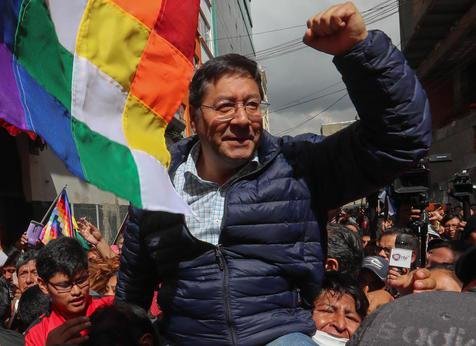 Thousands of people who support the Movement Towards Socialism joined to support the Arce-Choquehuanca duo for the May 3 elections. Photo: ANSA
The social networks are publishing videos of a massive demonstration by the population in La Paz, Bolivia, to support the registration of the Movement Towards Socialism (MAS) candidates on the last day of the term granted by the Plurinational Electoral Tribunal for this administration, said PL.
The audiovisuals show a compact crowd, with the presence of many young people carrying the flag of the native peoples, known as Wiphala. They march from the Plaza San Francisco in La Paz to the headquarters of the electoral body in the Bolivian capital.
As it is known, the registration period for the Bolivian political alliances and parties for the presidential elections of May 3 ended this Monday and from now on the electoral campaign for each of the registered candidates begins.
According to the Plurinational Electoral Tribunal (TEP), eight presidential candidates are registered, including the duo of Luis Arce and David Choquehuanca, for the MAS, while the right is divided between the self-proclaimed president Jeanine Áñez; former president Carlos Mesa, and Luis Fernando Camacho.
Meanwhile, Evo Morales presented a request before the Inter-American Commission on Human Rights to demand that the entity issue a precautionary measure in his favor that guarantees respect for his right to run for the Plurinational Legislative Assembly by MAS.
Recently, lawyers Patricia Hermosa and Wilfredo Chávez were arrested. They were to present before the electoral authorities the documentation required to register Evo as a candidate for the Plurinational Legislative Assembly.