Between You and I, Can There be Another?
With the social opening to the free development of sexuality, the existence of new love and relationships between couples is normal and is practiced nowadays
By Leyla M. Mancebo Bada, journalism student
digital@juventudrebelde.cu

Translated and edited by Walter Lippmann for CubaNews.

Isabel and Pedro have been dating for almost a year and say they are very much in love. They both showed up at a party, liked each other and then gradually got to know each other better. However, they do not have the traditional relationship of a couple, they "according to the current times and new trends of love", as they defined it, they have an open relationship.

Yes, open. It is a relationship in which both can meet other people and its members have the freedom to have sexual or affective relationships with third parties, this without including their partner in them and respecting that the greatest source of affection and commitment is maintained in the closed bond of the couple.

They tell us that they are satisfied with their relationship, "there are no complaints, sometimes a little jealousy appears but it soon passes, and the best thing is the freedom to enjoy and live – in a safe and clear way – our spaces, they add. None of this means that there are less moments that we share together as a couple, on the contrary, explains Isabel.

And it is as the Spanish therapist Antonio Bolinches says, in an open relationship, both members agree that they can have other short or lasting relationships. But it is the primary couple that structures their affective life, and where love resides with a capital letter.

"Today there are many open couples," explains Pedro. We young people experience a lot, and that lack of commitment is more interesting, it gives you more assurance that you won't be hurt. Who knows, and one day we will no longer want to follow this trend and we will become official in the most traditional way, but in the meantime, we feel good about it".

[To expand on the topic, listen to the Podcast: Open Couples, Does Love Die?], where JR's radio show More Than Paper addressed the phenomenon. JR PODCAST: http://www.juventudrebelde.cu/cuba/2017-02-13/jr-podcast-parejas-abiertas-muere-el-amor

This is just one of the many examples of love and relationships that are practiced today. With the great social opening to the free development of sexuality, it is normal that new definitions and ways of exploring human identity and personality exist.

Likewise, with the arrival of iconic dates such as February 14, known as Valentine's Day or Valentine's Day, a whole horde of references to love in its maximum expression is unleashed in society. And I wonder if in the post-modern era we can assume that love is only a matter of two?

Both the officialisation of the LGBTIQ+ community and the emergence of new consensual forms of stable relationships have given way to terms such as polyamory or open relationship. Where monogamous canons are abandoned in order to live love fully, according to the affective needs of each individual.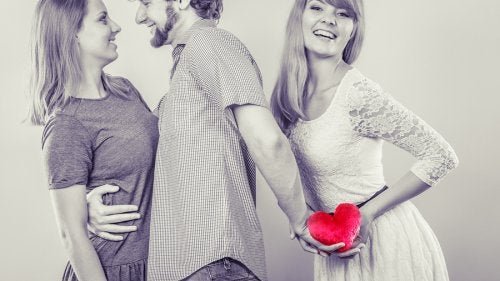 Polyamory, swingers…
Another very fashionable practice in these times are swinging couples, in which the members of two couples exchange their members for a defined and pre-established time. About this, Mileyda Menéndez Dávila, editor of the Sex Sense section of this newspaper, explains that these are not irresponsible orgies or tasteless youthful discargas (which also proliferate, sadly).
"In addition to the swinging encounters, there are mostly adults with happy marriages, people willing to oxygenate their erotic life without the disparate hypocrisy of infidelity or the renunciation of love cultivated in harmonious coexistence.
"There is a whole code of good conduct in these groups, which includes everything from protection against pregnancy and STIs to the essential reserve in terms of handling private information. One of their passwords is usually inscribed in large letters in the usual meeting places: NO is NO, to make it clear that individual freedom is inviolable in any circumstance" he says.
There are also polyamorous relationships. As the word indicates, it literally refers to many loves and is conditioned by the scientific fact that monogamy is not a question of genetics or inherent in the human condition, but is the product of the historical and social evolution of interpersonal relationships.
In practice, polyamorous relationships are those in which their members have a consensual right to maintain more than one love relationship, and in many cases their members share lifestyles, homes and even assume collectively the raising of children. One of the characteristics of these relationships is the commitment of all parties involved.
Photo: Taken from the Internet
For some, choosing someone exclusively, among so many, to lead an ordinary life is contradictory, because sexual and emotional interest occurs naturally towards more than one person. There are those who say that the main obstacle to enjoying this type of relationship is jealousy, but control of it is a question of acceptance and self-esteem.
All these terms, practices, modernities, or whatever they are called, show us that each individual lives in his own way and has the right to his intellectual and emotional growth, but the openness of the ways of thinking and feeling, helps to achieve empathy with our fellow beings, even when we do not share their practices.
When it comes to love, anything that enriches us without harming others is valid. If loving a person is beautiful and pleasant, and if we also agree to do it in a safe way, then between you and me, there can be one more.
Read also:
And do young people today still fall in love?
21st Century Couples