Chile Reports 70% Increase in Gender-Based Violence During Quarantine
The Chilean Government is preparing a set of measures to expand the network of support for women victims of gender violence from government and business bodies
April 7, 2020
Translated and edited by Walter Lippmann for CubaNews.
The Ministry of Women and Gender Equality in Chile reported on Monday a 70 percent increase in calls made by women to a domestic violence hotline during the first weekend under quarantine in the country following the health crisis generated by the coronavirus.
The information came to light as part of a study provided by the minister of the portfolio, Carolina Cuevas, who implemented a contingency plan that included special reinforcement of the Fono Orientación 1455 shifts, to protect women who reported being subjected to domestic violence.
The weekend before the quarantine, 532 calls were received, while in the same period, one week later, the number rose to 907. "This significant increase in calls is also a reflection of the fact that there is a need to ask for guidance and help in times when women are spending more time in our homes, possibly with our partners," Cuevas explained.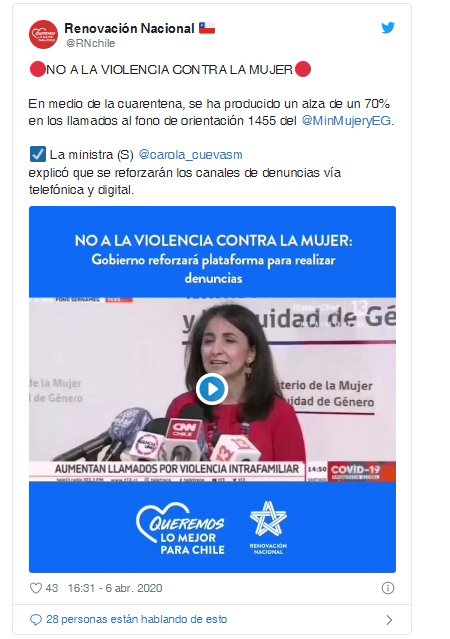 For its part, the Public Prosecutor's Office reported that, although reports of domestic violence have decreased by 18 percent compared to last March, reports of femicide have increased by 200 percent in the same period of time.
The Chilean government is preparing other measures to expand the network of support for women victims of gender violence, such as coordination with public agencies to safeguard care in periods of emergency, increasing the capacity of shelters and a messaging service, via SMS or WhatsApp, so that women can communicate in a "silent" manner that will be implemented in the following weeks.
Cuevas also met with the president of the employers' union, the Confederation of Production and Commerce (CPC), Juan Sutil, to discuss the impact of the health crisis on women workers. The minister requested that companies provide formal support to women in preventing domestic violence and incorporate the issue into their permanent policies.
In this regard, a group of Chilean women legislators and feminist organizations sent a letter to President Sebastián Piñera, asking him to strengthen measures to prevent violence, to prohibit the sale of alcohol that can trigger violent acts, such as creating immediate action groups and establishing strategies for reporting violence through websites, pharmacies or supermarkets. Gael Yeomans, MP and president of Convergencia Social, said that additional measures should be taken to allow victims of gender-based violence to break out of quarantine if they need help.