Obama and the Cuban Economy:
Understanding What He Did Not Say
By Agustín Lage Dávila
March 23, 2016 
A CubaNews translation.
Edited by Walter Lippmann.
"Viva Cuba Libre" on a street in Havana, March 22, 2016.
I had the opportunity to participate in several meetings with the delegation that accompanied Obama and to listen to the President's three speeches. Now I feel obliged to share with my colleagues what I understood of what was said and of what was not said, because in politics what is left unsaid is often as important as what is said.
There are two complementary ways of thinking to interpret this visit and the whole process of trying to normalize relations: to interpret what it means for an assessment of the past, and to interpret what it means for a projection into the future.
Looking to the past it is evident that the recently-begun process of normalization of relations between Cuba and the United States should be interpreted as a great victory of the Cuban revolutionary and socialist people, their convictions, their resilience and sacrifices, their culture, their ethical commitment to social justice; as well as a victory of Latin American solidarity with Cuba.
There are a few things that are so obvious to us Cubans that sometimes we forget to emphasize them:
This normalization began when the historic generation that made the Revolution is still living; and the normalization process is being led by leaders of that generation.
It included acknowledging Cuban revolutionary institutions. A recognition that the Liberation Army in 1898 did not get, nor did either the Rebel Army in 1959 (there was recognition, however, given to the dictatorships of Gerardo Machado and Fulgencio Batista).
It included the explicit recognition of the achievements of the Revolution, at least in education and health (which were those mentioned).
It included the explicit recognition of Cuba's solidarity aid to other peoples of the world, and Cuba's contribution to good causes such as global health, and the elimination of apartheid in Africa.
It included explicit acceptance that decisions on changes and socio-economic models in Cuba are exclusively for Cubans to make; and that we have (we have won) the right to organize our society differently from others.
It included the declaration of abandoning the military and subversive option as well as an intention to abandon coercion as an instrument of US policy toward Cuba.
It expressed the recognition of the failure of the hostile policy toward Cuba from previous administrations, which implies (although it was not said) recognition of the conscious resistance of the Cuban people, because hostile policies only fail against tenacious resistance.
It acknowledged the suffering that the blockade has caused the Cuban people.
This process did not start after the Cuban concession of a single one of our principles or of our demands for the end of the blockade and the return of the territory illegally occupied in Guantánamo.
It included the public admission that the United States was isolated in Latin America and the world for its policy towards Cuba. 
I do not think there is anyone fairly lucid and well-informed in the world who can interpret this ongoing normalization process as anything other than a victory for Cuba in its historical dispute with the United States.
Looking to the past, that is the only possible interpretation.
But looking to the future, things are more complex; and there are at least two possible extreme interpretations, as well as intermediate variations:
The hypothesis of the evil conspiracy.
The hypothesis of divergent conceptions about human society.
On the streets of Cuba both are discussed today. I alert the reader at this point that, for now, I will not argue for or against one of these two hypotheses, or their various combinations. Future events will take care of it, and each person will draw "their own conclusions" in this "passage to the unknown" [a reference to the closing sentence of the host of Cuban TV show Pasaje a lo Desconocido or, Passage to the Unknown]
Those who adhere to the hypothesis of the evil conspiracy read the words of President Obama as a false promise or a subtle deception that follow a plan designed to open the doors to US capital and the influence of US media; to allow expansion in Cuba of an economically privileged sector, which eventually would evolve into the social foundation for capitalist restoration and the renouncing of our national sovereignty. These would be the first steps for a return to the Cuba of rich and poor, dictators and gangsters that we had in the '50s.
Cubans who think like that are entitled to do so: there are many facts in the common history that justify this enormous distrust. These are known and I do not need to list them here.
Many people remember the famous phrase attributed to President Franklin D. Roosevelt when he said of Nicaraguan dictator Anastasio Somoza: "Somoza may be a son of a bitch, but he's our son of a bitch".
Certainly neither President Obama, nor the current generations of US Americans of good will (there are many) are to blame, as individuals, for the early stages of this historical trajectory. But it is also undeniable that the history is there, and it imposes constraints on what they can do, and on how we interpret what they do. Historical processes are much longer than a human life, and events that occurred many decades ago influence our choices today, because they condition collective attitudes that have an objective existence, relatively independent of the ideas and intentions of the leaders.
Even distancing President Obama from the aggressive and immoral policies of previous administrations, which organized invasions, sheltered terrorists, encouraged assassinations of Cuban leaders and implemented the attempt to starve the Cuban people; even establishing this distinction, we cannot forget that Obama alone is not the political class in the United States. There are many other components of power there. They have always been present: are present today, will be present when Obama's term ends within a few months, and will be present in the foreseeable future. We are seeing them in the current election campaign.
To be honest with everyone who reads this note, I must admit that President Obama did not give the impression here of being the articulator of an evil conspiracy, but of being an intelligent and educated man who believes in what he says. What happens then is that the things he believes in (he has every right) are different from those we believe in (also with every right).
That is the second hypothesis: divergent conceptions about human society. These were very evident in every moment of President Obama and his delegation's visit to Cuba, in all that was said, and in what was left unsaid.
It was very clear that the main direction of the US relationship with Cuba will be in the economic field and within this field the main strategy will be to relate to the non-state sector and support it.
It was very clear in the speech and symbolic messages, that they would distance themselves from the Cuban socialist state economy, as if "state property" meant property owned by an alien entity, not the property of all the people as it really is.
On the need for the existence of a non-state sector in the Cuban economy, we have no differences. In fact, the expansion of the space of the self-employed and the cooperatives is part of the implementation of the Guidelines of the 6th Party Congress. The divergence lies in the role that such non-state sector should have in our economy:
They see it as the main component of the economy; we see it as a complement to the main component which is the socialist state enterprise. In fact today that non-state sector –although it is offering close to 30% of employment– provides less that 12% of the GDP, indicating its limited capacity to generate added value.
They see it as equivalent to "innovation"; we see it as a sector of relatively low added value. Innovation is in high tech, science and technology, and their connections with the socialist state enterprise. The innovative spirit of the Cuban people has been expressed over the years in many other ways, such as the development of biotechnology with its pharmaceuticals and vaccines, the massive training of computer specialists at the UCI [Universidad de Ciencias Informaticas – University for Information Technology Sciences], urban agriculture, the energy revolution and many achievements of the Special Period, none of which was mentioned in the speeches of our visitors.
They see private enterprise as something that "empowers" the people; we see it as something that empowers "part" of the people, a relatively small part. The greatest involvement of the people is in state enterprises, and in our large state financed sector (which includes health, education, sports, public safety) that works for all the people and that generates most wealth. We cannot accept the implicit message of equating of the non-state sector with "the Cuban people". That was not said in such a rude way, but it is inferred far too clearly from the speech.
They tacitly separate the concept of "entrepreneurship" from state-owned. We see in the state sector our main options of productive enterprises. We explained this at the Forum of Entrepreneurs when describing the organization where I work (The Center of Molecular Immunology) as "a company with 11 million shareholders."
They see the non-state sector as a source of social development; we see it in a dual role, because it is also a source of social inequalities (of what we already have evidence, as illustrated by the recent discussions on food prices), inequalities which must be controlled with a fiscal policy according to our social values.
They believe in the dynamic role of competition (although this concept has been questioned even by serious ideologues of the capitalist economy). We know of its predatory and erosive role on social cohesion; and we believe more in the dynamic input that comes from country programs.
They believe that the market efficiently distributes investments responding to demand; we believe that the market does not respond to real demand, but to "affluent demand" and deepens social inequalities.
They base their conception on the track record of business development in the United States, whose economy took off in the nineteenth century, in conditions of the world economy that are unrepeatable today. We know that the realities of developing countries of dependent economies are different, especially in the 21st, Century; and that the economic and technical-scientific development will not stem from small private enterprises competing, or trying to reproduce the trajectory of the industrialized countries of today, 300 years later. This would be the recipe for the perpetuation of underdevelopment and dependence, with an economy designed as an appendix of and complement to the US economy. This already occurred in the nineteenth century, when such dependence plunged us on monoculture and closed the road to our industrialization. History serves to understand that, and therefore we cannot forget it.
Taking the path of civilized coexistence "with our differences" means that all the Cuban people must know very well where these differences are to prevent –seemingly rational– ad hoc decisions for tactical economic problems lead to strategic errors; and worse, that others push us to these through the things that are said and left unsaid.
We knew how to avoid those mistakes in the beginning of the Special Period, after the disappearance of the European socialist bloc and the rise of the neoliberal ideological tide of the 90s. We will know how to do it now, even better.
Civilized coexistence certainly leads us away from the dangers and barbarities of war (military and economic), but does not spare us from the battle in the realm of ideas. 
We need to win the battle of ideas to win the economic battle.
The economic battle of the Cuban 21st Century will occur in three main areas:
The efficiency and development capacity of the Socialist State Enterprise, and its insertion into the world economy;
The link of science to the economy through high-tech companies with products and services with high added value which would enrich our exports portfolio;
The conscious limitation of the expansion of social inequalities through the intervention of the Socialist State.
It is in these fields that the 21st Century will be decided for the Cubans.
The battle of ideas means to consolidate thinking and consensus on where we want to go, and on the concrete ways to get there.
The waters of the Straits of Florida should not be a field of war, and it is very good for everyone that they are not so; but those waters will continue separating for a long time two different conceptions of human coexistence, of the organization of people for social life and work, as well as the distribution of its fruits. And it is also very good that this is so.
Our ideal of human society is rooted in our historical experience and the collective soul of Cubans, masterfully synthesized by the thought of José Martí. He studied and understood US society better than anyone else in his time and said: "Our life does not resemble theirs, nor should it resemble it in many ways."
The basic belief of capitalism, even of those who so honestly believe in it, is the construction of material prosperity based on private property and competition. Ours is based on the creativity driven by the ideals of social equity and solidarity among people, including future generations. Our concept of society is the future, and although the future is delayed, stuck in the objectives of the present constraints, it remains being what we must fight for.
Private property and competition are the past; and although that past continues, of necessity, existing within the present, it remains being the past.
We must always see the concepts behind the spoken words, and the arguments behind the words unuttered.
The battle for our ideal of human coexistence will be in the hands of the present generation of young Cubans. In their times, they will face challenges different than those of the revolutionary generations of the twentieth century. But their challenges will be equally large and momentous, and also more complex.
In analyzing the complexity of their challenges I confess I would wish to join  the Union of Young Communists again. Its card (Nº7784, 1963) I have on my desk right now. I'm still a communist, but I have to accept the fact that I can no longer be considered "young". But I can share with young people the analysis of what is being said today, and the unveiling of what is not said. And I can build with them the intellectual tools we need for the battles to come.
José Martí wrote in April 1895: "Of thought is the greatest war that is being made against us: Let us win it by thought"

Obama y la economía cubana: Entender lo que no se dijo
Viva Cuba Libre", en en una calle de La Habana, este 22 de marzo de 2016.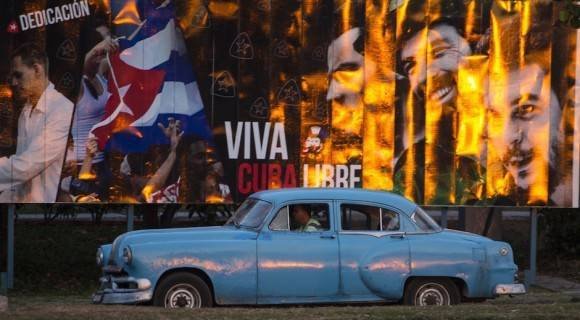 Foto: Desmond Boylan/ AP
Tuve la oportunidad de participar en varios encuentros con la delegación que acompañó al Presidente Obama y escucharlo en tres intervenciones; y siento ahora el deber de compartir con mis compañeros lo que interpreté de lo que se dijo, y también de lo que no se dijo, pues en política lo que se deja de decir suele ser tan importante como lo que se dice.
Hay dos direcciones complementarias de pensamiento para interpretar esta visita y todo el proceso de intento de normalización de las relaciones: interpretar lo que significa para una valoración del pasado, e interpretar lo que significa para una proyección hacia el futuro.
De cara al pasado es evidente que el proceso de normalización recién iniciado en las relaciones entre Cuba y los Estados Unidos hay que interpretarlo como una victoria mayúscula del pueblo revolucionario y socialista cubano, de sus convicciones, de su capacidad de resistencia y sacrificio, de su cultura, de su compromiso ético con la justicia social; así como también como una victoria de la solidaridad con Cuba de América Latina.
Hay cosas que nos resultan tan evidentes a los cubanos que a veces olvidamos subrayarlas.
Se inició esta normalización en vida de la generación histórica que hizo la Revolución, y conducida por líderes de esa misma generación.
Implicó un reconocimiento de la institucionalidad revolucionaria cubana, reconocimiento que no hubo hacia el Ejército Libertador en 1898, ni hacia el Ejército Rebelde en 1959 (si lo hubo, sin embargo, hacia las dictaduras de Gerardo Machado y Fulgencio Batista).
Incluyó un reconocimiento explícito de los logros de la Revolución, al menos en Educación y Salud (que fue lo que se mencionó)
Incluyó un reconocimiento explícito a la ayuda solidaria de Cuba hacia otros pueblos del mundo, y su aporte a causas nobles tales como la salud mundial, y la eliminación del apartheid en África.
Incluyó una aceptación explícita de que las decisiones sobre los cambios y los modelos socioeconómicos en Cuba corresponden exclusivamente a los cubanos, que tenemos (hemos ganado) el derecho a organizar nuestra sociedad de manera diferente a como otros lo hacen.
Implicó la declaración del abandono de la opción militar y subversiva, así como la intención de abandonar la coerción, como instrumentos de la política norteamericana hacia Cuba.
Expresó el reconocimiento del fracaso de las políticas hostiles contra Cuba de las administraciones precedentes, lo que implica (aunque no fuese declarado así) el reconocimiento de resistencia consciente del Pueblo Cubano, ya que las políticas hostiles solamente fracasan ante las resistencias tenaces.
Reconoció el sufrimiento que el bloqueo ha causado al Pueblo Cubano.
No partió este proceso de concesiones cubanas en uno solo de nuestros principios. Tampoco en los reclamos de cese del bloqueo y devolución del territorio ilegalmente ocupado en Guantánamo.
Incluyó el reconocimiento público de que los Estados Unidos estaban aislados en América Latina y en el mundo por su política hacia Cuba.
No creo que haya nadie medianamente lúcido e informado en el mundo que pueda interpretar este proceso de normalización en curso como otra cosa que no sea una victoria de Cuba en su diferendo histórico con los Estados Unidos.
De cara al pasado es esa la única interpretación posible.
Ahora bien, de cara al futuro las cosas son más complejas, y hay al menos dos interpretaciones extremas posibles, y sus variantes intermedias:
La hipótesis de la conspiración perversa
La hipótesis de las concepciones divergentes sobre la sociedad humana
En las calles de Cuba se discute hoy sobre ambas. Alerto al lector en este punto que no voy a argumentar por ahora a favor o en contra de una de estas dos hipótesis, o de las combinaciones diversas de ambas. Los acontecimientos futuros se encargarán de hacerlo, y cada cual sacará "sus propias conclusiones" en este "pasaje a lo desconocido".
Quienes se adhieren a la hipótesis de la conspiración perversa ven las palabras del Presidente Obama como una falsa promesa o un sutil engaño que responde a un plan concebido para que abramos las puertas al capital norteamericano y a la influencia de sus medios de comunicación; para que permitamos la expansión en Cuba de un sector económicamente privilegiado, que con el tiempo se iría transformando en la base social de la restauración capitalista y el renunciamiento a la soberanía nacional. Serían los primeros pasos del camino de retorno hacia la Cuba de ricos y pobres, dictadores y mafiosos, que teníamos en los años 50.
Los cubanos que piensan así, tienen derecho a hacerlo: hay muchos hechos en la historia común que justifican esa enorme desconfianza. Son conocidos y no necesito enumerarlos aquí.
Mucha gente recuerda la famosa frase atribuida al Presidente Franklin D. Roosevelt cuando dijo del dictador nicaragüense Anastasio Somoza: "Tal vez Somoza sea un hijo de puta, pero es nuestro hijo de puta".
Ciertamente ni el Presidente Obama, ni las actuales generaciones de norteamericanos de buena voluntad (que hay muchos) tienen la culpa, como personas individuales, de las primeras etapas de esa trayectoria histórica. Pero también es innegable que esa historia está ahí, y que impone condicionamientos a lo que ellos pueden hacer, y a nuestra manera de interpretar lo que ellos hacen. Los procesos históricos son mucho más largos que una vida humana, y eventos ocurridos hace muchas décadas influyen en nuestras opciones de hoy, porque condicionan actitudes colectivas que tienen una existencia objetiva, relativamente independiente de las ideas y las intenciones de los líderes.
Aún distanciando al Presidente Obama de las políticas agresivas e inmorales de administraciones precedentes, que organizaron invasiones, cobijaron terroristas, estimularon asesinatos de líderes cubanos e implementaron el intento de rendir por hambre al Pueblo Cubano; aún estableciendo esa distinción, no se puede olvidar que Obama solo no es la clase política de los Estados Unidos. Hay muchos otros componentes del poder ahí, que siempre han estado presentes, lo están hoy, y lo estarán cuando termine el mandato de Obama dentro de algunos meses, y en el futuro previsible. Los estamos viendo en la campaña electoral en curso.
Para ser honesto con todo el que lea esta nota, debo reconocer que el Presidente Obama no dio aquí la impresión de ser el articulador de una conspiración perversa, sino la de ser un hombre inteligente y culto, que cree en lo que dice. Lo que sucede entonces es que las cosas en las que él cree (con todo su derecho) son diferentes a las que creemos nosotros (también con todo nuestro derecho).
Esa es la segunda hipótesis, la de las concepciones divergentes sobre la sociedad humana, las cuales fueron muy evidentes en todos los momentos de la visita a Cuba del Presidente Obama y su delegación, en todo lo que se dijo, y también en lo que se dejó de decir.
Fue muy claro que la dirección principal de la relación de los Estados Unidos con Cuba estará en el campo de la economía, y dentro de este, la estrategia principal será relacionarse con el sector no estatal y apoyarlo.
Fue muy claro, en el discurso y en los mensajes simbólicos, en tomar distancia de la economía estatal socialista cubana, como si la propiedad "estatal" significase propiedad de un ente extraño, y no propiedad de todo el pueblo como realmente es.
En la necesidad de que exista un sector no estatal en la economía cubana no tenemos divergencias. De hecho la expansión del espacio de los cuentapropistas y las cooperativas es parte de la implementación de los Lineamientos surgidos del 6º Congreso del Partido. Donde está la divergencia es en el rol que debe tener ese sector no estatal en nuestra economía:
Ellos lo ven como el componente principal de la economía; nosotros lo vemos como un complemento al componente principal que es la empresa estatal socialista. De hecho hoy ese sector no estatal, si bien se acerca a ser el 30% del empleo, no alcanza a aportar el 12% del PIB, lo que indica su carácter limitado para la generación de valor agregado.
Ellos lo hacen equivaler a "la innovación"; nosotros lo vemos como un sector de relativamente bajo valor agregado. La innovación está en la alta tecnología, la ciencia y la técnica, y sus conexiones con la empresa estatal socialista.El espíritu innovador del pueblo cubano se expresó en estos años de muchas otras maneras, tales como el desarrollo de la biotecnología y sus medicamentos y vacunas, la formación masiva de informáticos en la UCI, la agricultura urbana, la revolución energética y otros muchos logros del periodo especial, nada de lo cual se mencionó en los discursos de nuestros visitantes.
Ellos ven el emprendimiento privado como algo que "empodera" al pueblo; nosotros lo vemos como algo que empodera a "una parte" del pueblo, y relativamente pequeña. El protagonismo del pueblo está en las empresas estatales, y en nuestro gran sector presupuestado (que incluye la salud, la educación, el deporte, la seguridad ciudadana) que es donde se trabaja realmente para todo el pueblo y donde se genera la mayoría de la riqueza. No se puede aceptar el mensaje implícito de hacer equivaler el sector no estatal con "el pueblo cubano". Eso no fue dicho de esa manera tan brutal, pero se interpreta del discurso de una forma demasiado clara.
Ellos separan tácitamente el concepto de "emprendimiento", y el de propiedad estatal. Nosotros vemos en el sector estatal nuestras principales opciones de emprendimientos productivos. Así lo explicamos en el Foro de empresarios al ilustrar la organización en que trabajo (El Centro de Inmunología Molecular) como "una empresa con 11 millones de accionistas".
Ellos ven al sector no estatal como una fuente de desarrollo social; nosotros lo vemos en un rol doble, pues también es una fuente de desigualdades sociales (de lo que ya tenemos evidencias, como ilustran los recientes debates sobre los precios de los alimentos), desigualdades que habrá que controlar con una política fiscal reflejo de nuestros valores.
Ellos creen en la función dinamizadora de la competencia (aunque este concepto ha sido cuestionado ya incluso por ideólogos serios de la economía capitalista). Nosotros conocemos su función depredadora y de erosión de la cohesión social, y creemos más en la dinámica que proviene de programas de país.
Ellos creen en que el mercado distribuye eficientemente la inversión respondiendo a la demanda; nosotros creemos que el mercado no responde a la demanda real sino a la "demanda solvente", y profundiza las desigualdades sociales.
Ellos se apoyan en la trayectoria de desarrollo empresarial de los Estados Unidos, cuya economía despegó en el Siglo XIX, en condiciones de la economía mundial que son irrepetibles hoy. Nosotros sabemos que las realidades de los países subdesarrollados de economía dependiente son otras, especialmente en el Siglo XXI, y que el desarrollo económico y científico-técnico no ocurrirá a partir de pequeños emprendimientos privados en competencia, ni intentando reproducir la trayectoria de los países hoy industrializados, con 300 años de diferencia. Sería la receta de la perpetuación del subdesarrollo y la dependencia, con una economía diseñada como apéndice y complemento de la economía norteamericana, cosa que ya ocurrió en el Siglo XIX, cuando esa dependencia nos sumió en el monocultivo y cerró el camino de la industrialización. Para entender eso sirve la Historia, y por ello no podemos olvidarla.
Emprender el camino de la convivencia civilizada "con nuestras diferencias", implica conocer bien a fondo y por todo el Pueblo Cubano, dónde es que están esas diferencias, para poder evitar que decisiones puntuales aparentemente racionales ante problemas económicos tácticos, nos puedan llevar a errores estratégicos; y peor aún, que otros nos empujen a ello, a través de las cosas que se dicen y las que no se dicen.
Supimos evitar esos errores en los inicios del periodo especial, ante la desaparición del campo socialista europeo y la marea ideológica neoliberal de los 90. Sabremos hacerlo mejor ahora.
La convivencia civilizada ciertamente nos aleja del riesgo y la barbarie de la guerra (militar y económica), pero no nos exonera de dar la batalla en el plano de las ideas.
Necesitamos vencer en esa batalla de ideas para poder vencer en la batalla económica.
La batalla económica del Siglo XXI cubano se dará en tres campos principales:
El de la eficiencia y capacidad de crecimiento de la Empresa Estatal Socialista, y la inserción de esta en la economía mundial;
El de la conexión de la ciencia con la economía a través de empresas de alta tecnología, con productos y servicios de alto valor añadido que enriquezcan nuestra cartera de exportaciones;
El de la limitación consciente de la expansión de las desigualdades sociales, a través de la intervención del Estado Socialista
En esos campos se decidirá el Siglo XXI de los cubanos.
La batalla de ideas consiste en consolidar pensamiento y consenso sobre hacia donde queremos ir, y sobre los caminos concretos para llegar.
Las aguas del estrecho de La Florida no deben ser un campo de conflicto bélico, y es muy bueno para todos que así sea, pero esas aguas seguirán separando por mucho tiempo dos concepciones diferentes de la convivencia humana, de la organización de los hombres para la vida social y el trabajo, y de la distribución de sus frutos. Y también es muy bueno que así sea. Nuestro ideal de sociedad humana está enraizado en nuestra experiencia histórica y en el alma colectiva de los cubanos, sintetizada magistralmente por el pensamiento de José Martí. Él estudió y entendió mejor que nadie en su tiempo la sociedad norteamericana y dijo: "nuestra vida no se asemeja a la suya, ni debe en muchos puntos asemejarse". 
La creencia básica del capitalismo, incluso en los que así lo creen honestamente, es la construcción de prosperidad material basada en la propiedad privada y la competencia. La nuestra se basa en la creatividad movida por los ideales de equidad social y solidaridad entre las personas, incluidas las generaciones futuras. Nuestro concepto de sociedad es el futuro, y aunque el futuro se demore, atrapado en los condicionamientos objetivos del presente, sigue siendo el futuro por el que hay que luchar.
La propiedad privada y la competencia son el pasado, y aunque ese pasado siga existiendo necesariamente dentro del presente, pasado sigue siendo.
Hay que saber siempre ver los conceptos que están detrás de las palabras que se dicen, y las razones que están detrás de las palabras que no se dicen.
La batalla por nuestro ideal de convivencia humana estará en las manos de las actuales generaciones de jóvenes cubanos, que enfrentarán en su tiempo desafíos diferentes a los de las generaciones revolucionarias del Siglo XX, pero igualmente grandes y trascendentales, y también más complejos.
Al analizar la complejidad de sus desafíos les confieso que quisiera ingresar otra vez en la Unión de Jóvenes Comunistas, cuyo carnet (Nº7784, de 1963) tengo ahora mismo sobre mi mesa. Sigo siendo comunista, pero he de aceptar que ya no puedo seguir siendo "joven". Pero si puedo compartir con los jóvenes el análisis de lo que hoy se dice, y la develación de lo que no se dice, y construir junto con ellos las herramientas intelectuales que necesitamos para las batallas que vienen.
José Martí escribió en abril de 1895: "De pensamiento es la guerra mayor que se nos hace: Ganémosla a pensamiento".