Movie Filmed in Cuba Nominated for Oscar
The film had its world premiere at the Telluride Film Festival, where it was a great success
Author: Cubasi | internet@granma.cu
December 21, 2015 11:12:23
A CubaNews translation. Edited by Walter Lippmann.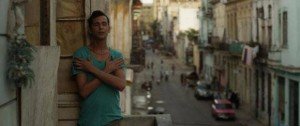 Hector Medina stars in the film
Film "Viva", set in Cuba and directed by Paddy Breathnatch, was chosen by the Irish Academy of Film and Television to represent the country at the Oscar Academy Awards as best foreign language film.
In this regard, Aine Moriarty, President of the Irish Academy, said: "The Irish Academy is delighted that this wonderful film by Paddy Breathnach and Mark O'Halloran represents Ireland at the Oscars. It reflects the creativity and diversity of points of view of this Irish team while shooting a Cuban story that is so tender, intriguing and visually captivating."
The film had its world premiere at the Telluride Film Festival, where it was a success. In October, it will be presented at the Busan Festival.
Written by Mark O'Halloran, the drama follows Jesus, an 18 year old Cuban who is lost and trying to find his true identity. Unsure of himself or his future direction, he works at a drag queen club in Havana. There he pursues his dreams of becoming an actor, while earning money through prostitution.
He finds his oasis at home listening to the albums his mother and grandmother left him; or even watching the boxers who train next door. Then, something comes to his life that will challenge his direction and his freedom: his missing father, a famous boxer, who returns after spending 15 years in prison for killing a person in a street fight when Jesus was a child.
The cast includes Hector Medina, Jorge Perugorría and Luis Alberto Garcia.