Translated and edited by Walter Lippmann for CubaNews.
Massive parade of LGBTI activists and Cenesex workers this May Day
Around a hundred LGBTI activists and workers from the National Centre for Sex Education (Cenesex) marched in front of the Revolution Square on May 1st with Cuban flags and rainbow flags as a prelude to the eleventh edition of the Conference against Homophobia and Transphobia.
Mariela Castro Espín led the march, which this year was attended by a massive turnout of members of Cenesex's community social networks, who from early on in the morning at the joined the crowds of people gathered in Havana in the early hours of the morning.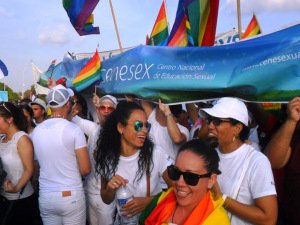 Among displays of respect and support from workers from multiple sectors and protesters from other countries, transgender, lesbian, gay and bisexuals shared the demonstration with all the people, just 72 hours before the start of the Cuban Conference against Homophobia and Tranphobia on May 4, whose main venue on this occasion will be the western province of Pinar del Rio.
In the previous hours, Cenesex published the official program for this eleventh edition of the Conference, which for the second consecutive year will advocate for schools without homophobia or transphobia.
I include myself once again in the motto of this Conference, which in a way also began this Tuesday with this greater inclusion of LGBTI people in the main demonstration of unity, revolutionary commitment and broad diversity that every year brings together the entire Cuban population.
Without further ado, some of the images showing Cenesex activists and workers at the celebration of this International Workers' Day in the Cuban capital.
Who is Paquito?
I am Paquito, from CUBA; I am a Marti follower and a an author; I am a communist and gay journalist; I am a convinced and superstitious atheist; I am the father of a son whom I have adored and have been a partner for fifteen years with a seronegative man who loves me; I have been an AIDS patient since 2003 andam a survivor of non-Hodgkin's lymphoma for more than twelve years; I am a university professor and a student of life; a follower of Cuban economic issues and a passionate devourer of universal literature; an incontinent and belligerent moderate; a friend of my friends and a compassionate friend of my enemies; often wrong and never repentant; a hardened and eternal enthusiastic optimist; alive and kicking; in short, another ordinary man who wants to share his story, opinions and desires with you…