How to end fertility responsibly?
Several techniques and methods exist in Cuba for women and men to end fertility in a responsible way. Are they accepted in the same way? Do cultural patterns and gender inequality influence the most used ones? Juventud Rebelde approaches the issue from three territories of the country
Authors:


Liudmila Peña Herrera,

Lisandra Gómez Guerra,
Dorelys Canivell CanaL
Published: Thursday 13 May 2021 | 10:30:46 pm. Updated: Friday 14 May 2021 | 03:55:27 pm.
Translated and edited by Walter Lippmann for CubaNews.
Every time María Alejandra's menstruation is late, she and her husband's pulse quickens. The 35-year-old woman jokes that surely the female is coming, behind her boys, and he makes a face like he wants to pull his hair out, because "two are more than enough". Then she returns to the subject that was almost forbidden that afternoon when he told her that he agreed to opt for male sterilization (vasectomy). However, it all remained a fleeting phrase.
"We had that conversation in front of my mother-in-law, who, upon hearing my proposal, screamed her head off," says this Havana native, who currently uses condoms as the only contraceptive method, which was difficult to obtain more than a year ago.
There are many people who face the dilemma of finding the best way to control birth control or to put an end to their fertility. Ideally, the decision should be made in a consensual manner with the couple, but this is not always what prevails.
Family planning: a women's issue?
The 48th edition of Cuba's Health Statistical Yearbook -which contains updated information up to 2019- states that intrauterine devices (IUDs) had the highest percentage (52.2 percent in that year) of contraceptive coverage, followed by female sterilization (tubal ligation), which reached 22.6 percent in 2019.
According to that document, this last value is the highest recorded since 1995 (the date from which the comparisons start). Other contraceptive methods referred to were pills, injectables and condoms. It is worth noting that male sterilization was not included among the options, at least not reported.
So common, it seems natural to many people that birth control is mostly a female concern, even if there are men who are willing to take a leading role.
A survey conducted in the streets of Sancti Spiritus shows the prevailing patriarchal ideology that affects these decisions. Among the opinions identified with this type of concepts, those that stand out are those that maintain that women should worry more because men have children, but if they want to, they do not raise them; if they change their mind after tubal ligation, they can go to the doctor and he will always know what to do.
The "discomfort" involved in the use of condoms and the discomfort associated with IUDs were also mentioned. Another of the ideas naturalized by popular opinion is that "if a woman has a cesarean section, she takes advantage of it and gets her tubes tied".
This is confirmed by Claudia Bernal Castillo, who opted for tubal ligation surgery. We didn't even talk about it at home," explains the 32-year-old. If we only wanted two children, and we already had them, why let that moment go by".
This is one of the reasons that move patients to request the surgical procedure to the Sancti Spíritus doctors Omar Rangel and Miguel González Bellón, specialists in Gynecology and Obstetrics, who assure that it happens "as a consequence of machismo".
"This is a definitive and irreversible method of family planning. Although the application of methods to reverse it has been registered, the predominant thing is the appearance of ectopic pregnancies, which are a danger for the woman", says Bellón.
Dr. Rangel adds: "It is always explained that it is not necessary to perform the procedure during the cesarean section, because it is more invasive and can generate a greater number of maternal deaths, since it involves a surgical intervention. It can be performed laparoscopically -which is less invasive and less risky- 48 hours postpartum".
The possibility of complications was what made Yaritza Cabrera, 36 years old and a resident of the capital, desist from this procedure, minutes before the cesarean section. "When they were preparing me for the operation, including the oxygen mask, I vomited and almost choked. I was afraid that my blood pressure would rise, because I became tachycardic, so I told the doctor: 'Forget about the ligature,'" she recalls.
Although both physicians from Sancti Spiritus agree that requesting this procedure is a woman's right, they recommend it, especially under certain circumstances. Dr. Rangel explains that it is done up to the age of 39 and 40, and never before the age of 24. He also states that it is sometimes necessary to perform it on multiparous patients, those with serious psychiatric problems, decompensated diabetics and those with renal insufficiency.
Both consider that there is an urgent need to improve the culture regarding the use of multiple contraceptive methods: mechanical, endocrine, implants, tablets, etc., so that surgical intervention is not recurrent. "In the family planning consultation, which should be attended as a couple, providers should be trained to provide guidance, according to all the possibilities, so that the best option is chosen," concluded Dr. Bellón.
Can men decide?
Among the techniques used to write this report was a qualitative survey carried out in a private group created by this team for journalistic purposes (Experimento para textos periodísticos) on the social network Facebook, which is made up of 900 users residing in the country.
Most of the women acknowledged that when they decided to end their fertility through surgery, they made the decision alone, without consulting their partner. Some responded that they never thought of proposing to him to have a vasectomy, and it is noteworthy that several of them tried to negotiate to see which one would work best for them.
Several tried to negotiate to see which of the two would undergo the surgery, but it was not possible to reach an agreement. Two girls even proposed to their husbands to have it done and they were offended.
This is still a taboo subject," says Yinet Córdova, from Holguín. I used condoms for many years because I couldn't use other methods, and I gave them up when I was sterilized endoscopically, because my husband refused to have a vasectomy".
For Rouslyn Navia, a resident of Havana, the story has not been much different. At 37 years old and with two children, she does not intend to get pregnant again. She did not opt for ligation during the cesarean section "for fear that the recovery would be more painful. Then I tried to negotiate with my husband to have the vasectomy, since he has several children. He did not agree.
Vasectomy is a surgical technique whose purpose is male sterilization, when the man has decided to put a definitive end to his fertility. However, urologist and andrologist Ramiro Fragas Valdés, specialist in Urology and master in Sexuality at the Cira García Central Clinic, in Havana, warns that, although it can be performed since the 1970s, "it is not practiced as much as it could be because, when couples are referred, they think more about tubal ligation, and because it is the woman who generally opts for sterilization. The idea is to change that, especially because vasectomy is a much simpler and less risky procedure for a man than tubal ligation is for a woman".
One of the issues that prevent men from opting for this technique, in addition to prejudice, is misinformation. In the survey, most of the participants assured that they would not dare to have it done, and considered that the subject should have a greater presence in the media.
Although some said that "it is not a necessary method if the woman can get pregnant" and that "they say it is very painful", it is striking that more than half of the men said that "it should be a more accessible option" and "information should be offered in family planning consultations and in sex education in schools".
These opinions coincide with the opinion of Dr. Fragas, who believes that "if we break the taboo of machismo, if we make the method more widely known, and if we get family planning programs to offer it as an option to couples, vasectomy would be practiced much more than female sterilization, we would save resources, and we would save money. With female sterilization, we would save resources and take better care of women".
Vasectomy: quick and precise
T is a middle-aged man, a doctor, from Havana and childless. He does not want to mention his name, but agrees to share his experience because, despite wanting to undergo the surgery for many years, it has not been possible for him to do so. For years, it has not been possible for him. He says that he never wanted to have offspring, which is why, since he was a medical student, he asked about that possibility.
"First, it was not feasible because I was very young," he recalls. Then, because I had no children. Later, I was frightened by the unwillingness I found to receive help with postoperative pain management. When I told myself I could handle it, the childlessness story came back.
T's doubts and concerns may be those of other men. That is why we asked Dr. Fragas, also a member of the board of directors of the Cuban Urology Society, about these issues. The specialist explains that "vasectomy is a very simple surgery that is performed in 15 minutes. The rest period is two or three days, and sexual activity can be resumed after a week".
However, he believes it is necessary to be clear that "the reversal -in case the patient wants to have children later- takes at least two hours because it is done through microsurgery, and the results are not always favorable. Therefore, it is generally recommended for couples in which the man and the woman are over 35 years old. It cannot be a hasty decision and should be promoted among stable unions, with two children or more".
Dr. Fragas has extensive experience in this type of surgery, and between the incisional method and the one that does not require a scalpel (Li technique), he prefers the latter, although in his opinion both are equally effective.
"There are patients who feel safer with the traditional technique, with a scalpel," explains the doctor, who in 2009 presented in Barcelona a casuistry of approximately 400 patients who had undergone surgery, together with other experts. It is also very simple, and one or two small incisions are made. Li's technique does not change much, but the fact that it does not use a scalpel, that it is performed through a single incision in the median raphe under local anesthesia, makes it more attractive".
The urologist assures us that the experience of these men, when the doctor makes an appointment to see them to see how it went, is very favorable. "They are very happy with the method and recommend it as something safe and simple," he says.
Dr. Iliana Armas Ampudia, First Degree Urology and MGI specialist, and member of the Provincial Infertility Consultation in Pinar del Río, corroborates her colleague's explanation and adds:
"The patient walks in and out of the consultation and should not have any complications. However, it is a very unusual practice. In more than ten years in the specialty, I have barely performed four, and I have colleagues who have performed one or two. Society still has many taboos about these issues. Men should know that it does not affect virility: their erections will remain the same, as will their ejaculation, only free of spermatozoa".
He also points out that "the couple should continue to take care of themselves for up to three months after the surgery to completely avoid any risk of pregnancy".
Voices from experience
At the age of 67, Georgina Venegas, from Pinar del Río, remembers with gratitude the decision of her husband, journalist Rafael Cao, now deceased. He decided to have a vasectomy so that she would not have to undergo a ligation. It was the early 1990s, and Georgina had undergone two back-to-back terminations.
"We had one child together, and he had another from a first marriage. I had already turned 39, and I told him, 'I'm going to have to tie the knot, unless you do.' I just had to ask," she says.
After a tenacious search in surgical records and operative reports by the nurses of the Urology service in Pinar del Río, this team managed to talk to Alfredo Miló, who underwent a vasectomy in 2019 to prevent his wife, already with two very complex pregnancies due to preeclampsia, from having to enter a salon again.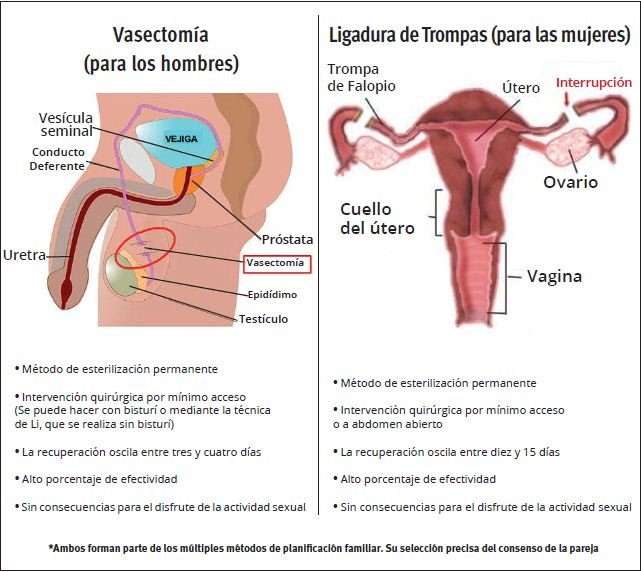 "Before deciding on a vasectomy, we looked at other alternative methods, but none of them satisfied us. I would tell her, 'I don't want you to go to the operating room,' and she would say, 'I do want you to go, but to have a vasectomy. Not knowing what it was like and with my machismo in front of me, I did not agree, and so we worked for several years, until I was convinced.
"During the operation I felt no pain. The recovery was perfect. I can tell those who doubt that vasectomy transports you to a world where worries are over."
His wife, Yamilka Rodriguez, confesses that it was not at all easy to convince him, because "there was a lot of pressure from society and even from the family; even when he entered the salon they told him not to do it".
Today, Yamilka says, not many people are surprised:
"Women ask me how I got her to have it done and men tell her: 'You're crazy, no woman deserves to have that done for them'. It is a deep-rooted machismo. In the face of that, I say that we are happy".
As this is an issue that is discussed (when dialogue is achieved) within the couple, in the Family Planning Consultation of the municipality of Pinar del Río, each of the options available to avoid pregnancy is explained. In this regard, Dr. Lázara Medina Martínez, who has a diploma in Comprehensive Care for Women and a master's degree in Communicable Diseases, points out that "vasectomy, in particular, is almost never accepted".
From 2012 to date, during the time she has been working in this practice, only two couples have opted for this method, in both cases because the women had pathologies that prevented them from undergoing ligation.
Acts of love and responsibility
In sexual and coupled life, as in social life, everyone has their own contexts, realities and determinants. It is true that as a country we are gaining more and more information and debate on topics that have traditionally been considered off-limits, or only of interest to sectors such as women, in the case of birth control and the end of fertility; but as long as there are options that have not been taken advantage of because of macho cultural patterns, there is still much to communicate and discuss.
On this path, there is nothing better than to seek guidance from specialists and positive experiences. Fortunately, when one looks to the horizon, one finds examples such as those of Ernesto Herrera, from Holguín, who has just become a father. He is sure that, "when the time comes, vasectomy will be the option I will take. It is safer and less traumatic than a ligation for my wife. It is also an act of love.