From Quebec, with love…
August 20, 2009
Author: MIGUEL FEBLES HERNÁNDEZ
A CubaNews translation.
Edited by Walter Lippmann.
From the cold and faraway Canadian city of Quebec arrive every year the warm solidarity and the sympathy of hundreds of citizens who turn a deaf ear to all anti-Cuban campaigns to travel to our land and get to know it through its people.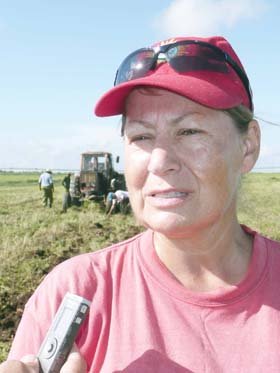 Colette Lavergne: "Every visit to Cuba makes us more confirmed in our conviction to fight for a better world"
So was the case of Colette Lavergne, a Quebecois through and through who found out in 1992 that the Cubans were something more than just a hospitable, party-loving people.
"I didn't want to come. There's so much misinformation and negative promotion about Cuba in my country, and they vilify and discredit the Revolution and its achievements so much that I expected to find here a sad, downhearted, oppressed people…
"It was quite the opposite, however: I found a happy, dignified and resolved people who defend what belongs to them. They have a country where they live with their head held high and not on bended knee. Since then I fell hopelessly in love with the Cubans."
Two years later, when the special period had reached crisis point, Colette took her first steps as an activist for solidarity and friendship between Quebec and Cuba.
"I remember my first experience at the Cándido González High School in the city of Matanzas. Ten children had come with my daughter, who was then taking part in an international education program, and a wonderful unity and understanding grew among all those boys and girls."
Their visit was such a success that in the following year reality went beyond all expectations:
"We organized a preparatory meeting for the following trip and over 300 people turned out who were eager to know Cuba. We had no choice but to rent a plane that we jam-packed with 160 Quebecois. That time we went to Consolación del Sur, in Pinar del Río province."
Quebec's solidarity has been steadily mounting ever since by means of various projects to become familiar with life in Cuba, not as simple visitors but through coexistence, involvement and mutual knowledge.
From family to family
Never did the little Guillaume Fournier ever imagine that Fidel and he had the same birthday, let alone that he would once celebrate his harvesting sweet potato, a root vegetable he'd never seen before to boot.
He came with his mom Manon, his sister Annie-Kim, and rest of the Quebec Solidarity Brigade members who these days are visiting Camagüey, since last year the host province for the so-called Family Camp program.
"This project –says Colette, leader of the solidarity organization ARO-International Cooperation– aims at the exchange between families. That's why we have children with their parents and even a grandma now and then.
"Working in the fields like we're doing now has been an unforgettable experience and a singular way to bring Cubans, Quebecois and foreign students who live here together in solidarity."
Alain Menard, a post-office worker who brought his daughter Sabrina so she could see what he felt in five previous trips to Cuba, agrees with Colette:
"This is a country of simple, outgoing, nice people. Every time I come I return to Canada full of optimism and confidence that we can live in a peaceful world where human beings can be brothers and sisters."
Since 1994, around 5,000 Quebecois have come to Cuba as part of the programs set in motion by Colette Lavergne, a woman who put aside one of her greatest passions –Medical Science– to devote herself body and soul to the work of solidarity with Cuba and its people.