Cristina Fernández de Kirchner and Her Daughter Florencia Fly from Cuba to Argentina
In her text, Cristina Fernández de Kirchner also recommends that Argentines respect preventive isolation within the framework of the fight against the coronavirus pandemic
By Redacción Digital
March 20, 2020
Translated and edited by Walter Lippmann for CubaNews.
Vice President Cristina Fernández de Kirchner announced that she is returning to Argentina from Havana, Cuba, with her daughter Florencia Kirchner. The decision was made public by the former president herself through her Twitter account. There, in a tweet, she states that her daughter and her doctors "managed to restore some of her lost health and have been working on her return home for some time."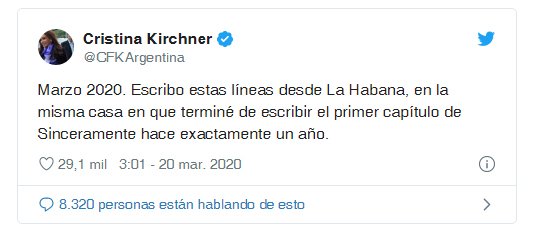 In her text, she also recommends that Argentines respect the preventive isolation in the framework of the fight against the coronavirus pandemic.
The return will take place through a flight from Cubana de Aviación, the island's flagship carrier. Although Cuba is not a country at risk from the coronavirus, the former president said that, together with her daughter, they will comply with the preventive isolation.
This is her tenth trip so far this year, and for the former president, this is the most important one. "Flor asked me to come and help her… I felt that I could not do it alone," wrote CFK.
In her tweets, the former president deeply thanks the people and government of Cuba. "And I feel that even if I had a hundred lives, they would not be enough for me to express my gratitude to this Cuba of solidarity, punished by the powerful but dignified and haughty," writes the vice president and continues: "Cuba stood by me at a very difficult time in my life, that held out its hand to my daughter without speculation and that cared for and protected her when the fierce media and judicial persecution severely damaged her health.
Regarding Cuba, the former president also points out that "that Cuban doctors exercise their vocation with commitment, with a profoundly humanist stance and who, with precise diagnosis, for the first time, gave Flor the tools that those who have lost their health need".
Finally, the Vice President asked Argentines to take care of themselves in the face of the coronavirus pandemic: "I would like to ask you to do the same, to take care of yourselves and others by respecting preventive isolation in your homes. I love you all very much".